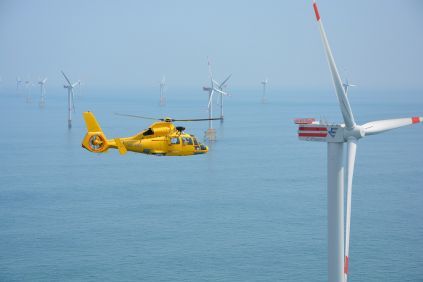 James Fisher Marine Services (JFMS) has announced a deal with helicopter service provider NHV to enhance its offshore wind construction contracts.
Signing a 'Memorandum of Understanding', JFMS and NHV believe that the deal will offer an additional option for crew transfer and keep offshore wind farms running for longer.
Martin Dronfield, director of strategy and business development at JFMS, said:"We see the integration of aviation services with crew transfer vessels (CTVs) and service operation vessels (SOVs) as a significant 'key' to unlocking wind farm development further offshore.
"NHV is an ideal partner and service provider that's already established in offshore aviation services, with a presence in all of the North Sea's oil and gas operating regions, and has a fantastic track record of excellence.
"This partnership further demonstrates our forward-thinking mentality, driving this resource offering, in anticipation of a step-change for wind developers around the world."
Eric Van Hal, CEO of the NHV Group, said:"We are honored to engage in a relationship with JFMS.  As offshore operations become increasingly complex, there is a need to provide a greater scope of support services.
"The extensive knowledge of JFMS, combined with the broad experience from NHV, allows us to create a fruitful synergy between both of our industries. Together, we will be able to offer our clients an all-in service that meets or exceeds the highest international standards for safety and reliability."