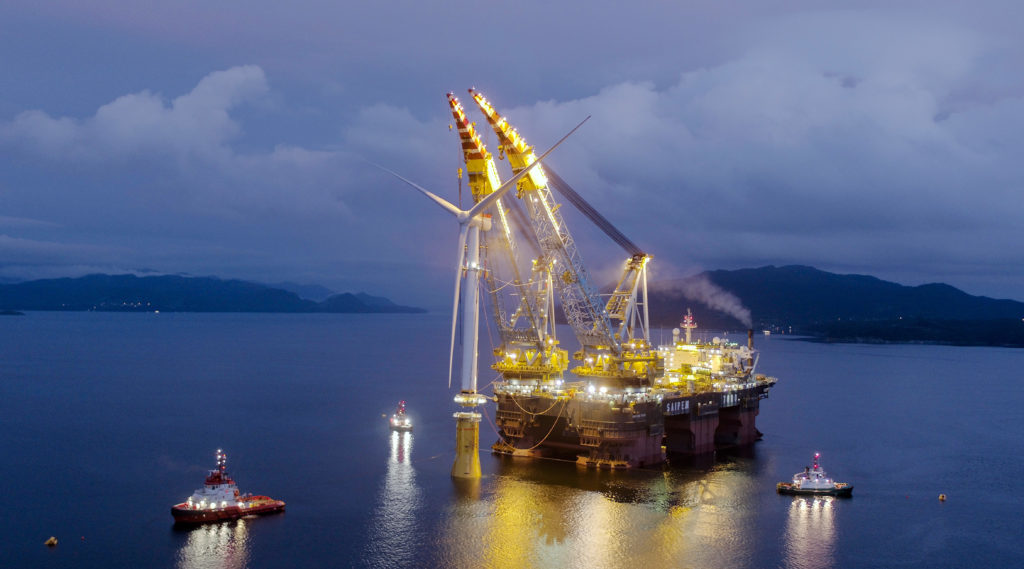 Bosses at Saipem said yesterday that the Italian energy construction firm had more offshore renewable power projects in its sights in the UK North Sea.
Saipem was involved in the construction phase for the Statoil's Hywind floating wind farm project off Peterhead last year, and will also participate in the Hornsea project off Yorkshire.
The Milan-based firm outlined its plans to do more in the UK continental shelf during a presentation aboard the Saipem 7000 semi-submersible crane vessel in Cartagena, Spain.
For Hywind, the Saipem 7000 lifted the assembled turbines and towers for the project and installed them on floating foundations at a yard in Norway, before their transportation to Scottish waters.
Seventy offshore wind farm developers were present yesterday, including the likes of Statoil, Vattenfall and Orsted, though no Scottish firms made the journey.
Saipem, which is also developing its own floating wind turbine design, claimed to have a "competitive advantage" its rivals in terms of its ability to lead the fabrication, delivery and construction phase of on offshore wind development.
Paolo Formica, Saipem's offshore area manager for the North Sea, said: "Our influence is able to put development projects in a better competitive position. Many of the companies that we already work with see us as an operation partner rather than a contractor."
A Saipem spokesman said of the lack of Scottish developers present: "It's a continuous engagement process. Given the stage that many Scottish developments are at we thought it might be difficult to attend but we met with ScottishPower Renewables last week and have met with Red Rock Power recently also."
ScottishPower Renewables is the green power wing of Glasgow-based ScottishPower, which, in turn, is owned by Bilbao-headquartered Iberdrola.
Red Rock is based in Edinburgh.
Recommended for you

ScottishPower appoints first head of Scottish offshore wind