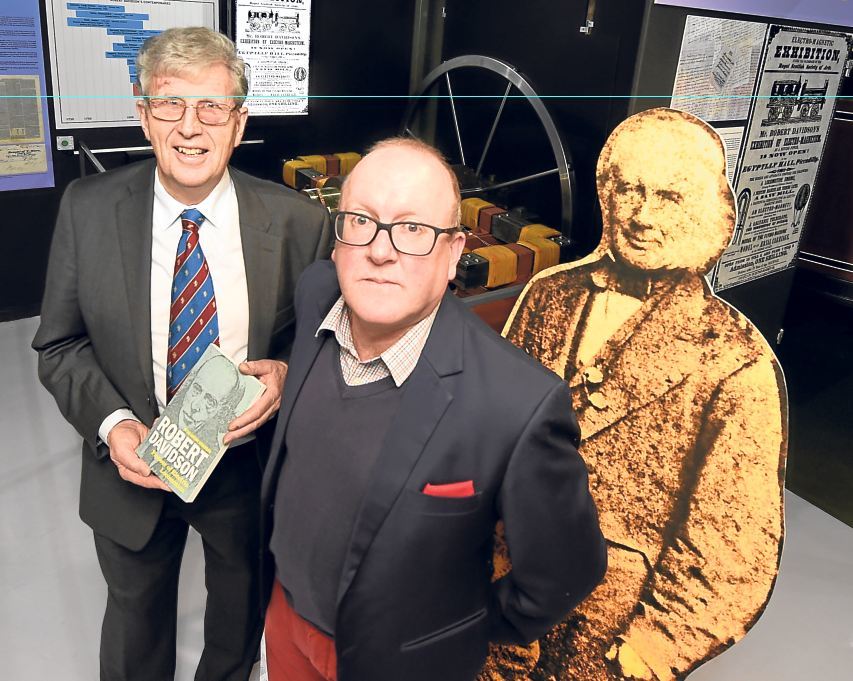 The name Robert Davidson might not mean much, but back in the 1830s the Aberdonian inventor proved himself to be somewhat ahead of his time.
In an era before volts and watts had been dreamt up, Davidson found himself fascinated by the possibilities of electricity.
During this period, electricity could be generated, but not in a way that could be exploitated as a practical electric motor.
Keen to try his hand at utilising electricity in a different way, Davidson set about constructing his own portable batteries and by 1837 had created his very first fully electric engine.
Two years later he held a public exhibition in Aberdeen where thousands travelled to see his invention.
He took the exhibition on the road to both Edinburgh and London, but as is often the case with forward-thinking inventors,
Davidson's electric discovery was a little ahead of his time.
"If he had been just 40 or so years later people would have marvelled," said Mike Ward, curator of the Grampian Transport Museum (GTM).
"As it was, he was carrying out his work before the laws of electricity had even been written, and people didn't think it was viable.
"But the rechargeable battery was invented in 1850 in France, and just 20 years later there was a real golden era of electric cars. They were replacing horse and carts and were extremely popular.
"During this time all London cabs were electric, and although they didn't have a huge range there was always a spare battery on hand just in case.
"Things changed in 1908, however, when the first petrol cars came along.
"Their huge range just blew the electric car of the time out of the water."
Now fast forward to 2018, and we find ourselves once again in a period in which electricity is making waves in the motor industry.
The Grampian Transport Museum in Alford has been waiting for this moment for some time, compiling years of research and exploration into the subject to launch their 2018 opening exhibition: It's Electric.
"We timed this exhibition very carefully," said Mike, who has been the curator for 35 years.
"It is a time of huge social change, and in terms of electric vehicles, it's as though history is repeating itself.
"Original electric cars were cheap to run, reliable and easy to drive.
"Nowadays they are exactly the same except faster and even cheaper.
"The rate of change is accelerating violently, and in my opinion electric cars will be the norm within about five years, and certainly within 10 years.
"The public are really in the dark about how fast the industry is changing.
"Our exhibition not only takes you through the history of the electric vehicle, but also probes at the future and what is yet to come."
Helping to set the Victorian wheels of the electric car back in motion is Stuart Scorgie, the great-great-grandson of the original inventor Robert Davidson.
"I still stay in Aberdeen so we've not moved very far as a family!" Stuart laughed.
"I heard about Robert's inventions when I was a young boy and a researcher visited us in the 1970s.
"He was looking for any information we had because he was writing a book about Robert's life.
"But apart from that I hadn't thought much about it until I saw an article in the Press and Journal last year appealing for any details about Robert for this electric exhibition at the GTM.
"I got in touch with Mike the curator and passed him along a box of old odds and ends my father had kept about Robert.
"There's not much known about him in truth.
"Just two weeks ago I came across what we think is the only known photo of Robert, and it's now a part of history at the museum."
Stuart himself is also being immortalised at the exhibition, playing the part of his great-great-grandfather in a video exhibit, complete with top hat and sideburns.
Other displays of note include a working replica of Davidson's first electric motor, which was handcrafted by local businesses who followed a 175-year-old illustration of the original engine to complete the task.
In the 1840s, Davidson predicted electromagnetic machinery would overtake steam engines in the not so distant future.
Decades later, it appears he was right, and with the rate at which technology is progressing, it likely won't be too long before it replaces the petrol cars we have today.
Yet we can't help but wonder, could it all have happened much earlier if Davidson had found a patron with deep pockets and infinite patience in the early 1840s?
The Grampian Transport Museum in Alford is open now for its summer season. For more information visit www.gtm.org.uk
Recommended for you

BP to power London's largest car service going all-electric