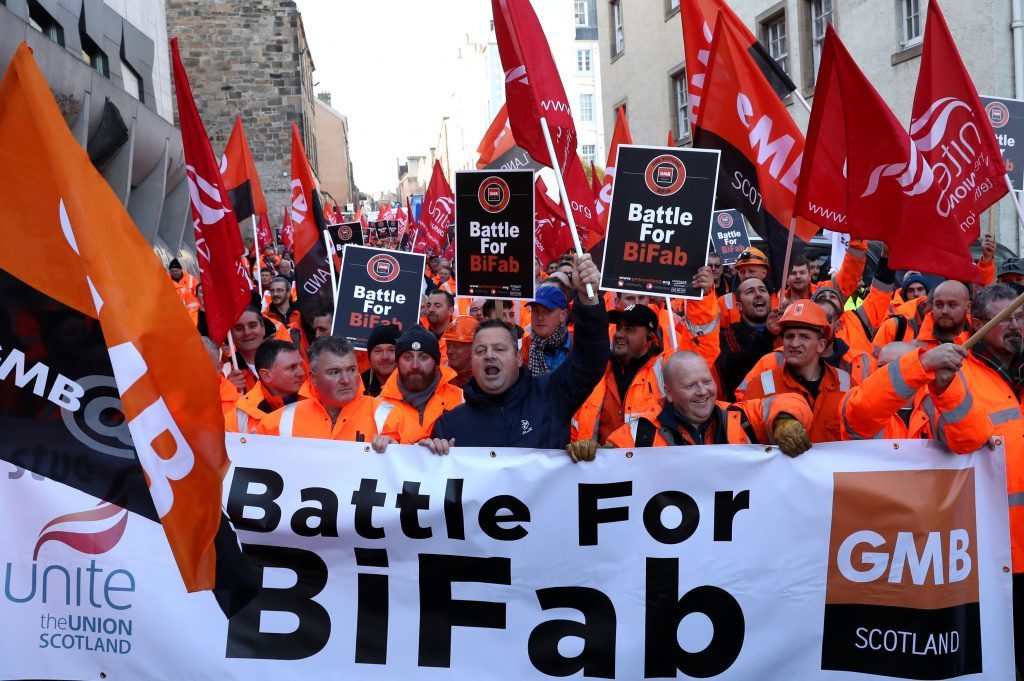 Workers affected by the proposed deal to save Burntisland Fabrication (BiFab) are being "left in the dark" as attempts to save the company drag on, union officials claim.
With a solid deal thought to be on the table, negotiations between the Scottish Government, BiFab and an unnamed buyer started on 1 March.
Yet, more than a month on, many employed by the Scottish firm are becoming increasingly concerned as they wait for a government update on the deal.
Last night, Bob MacGregor, of Unite the Union, said: "Everybody who works there is concerned that there is no update because there's jobs going week on week.
"They're ramping projects down obviously because projects are coming to an end, so there are people being paid off every week.
"It's getting towards the core workforce now so it's a pretty critical time. The wheels of the Scottish Government turn very slowly."
BiFab, which employs around 1,400 workers, was saved from administration late last year by the Scottish Government issuing a loan of £15million to ensure they could meet their commercial commitments and contract deadlines.
The engineering firm has three yards in Scotland, with its Arnish yard on the Isle of Lewis under particular strain due to the end of renewables contracts.
Until recently, BiFab had been working on significant contracts in the outer Moray Firth and a multi-million pound agreement with the Beatrice offshore windfarm.
The frustration felt by staff is understood to centre on the double whammy of continued job losses and the lack of a meaningful government update concerning their future.
Rhoda Grant, Labour MSP for the Highlands and Islands, said: "I understand the need for secrecy but unions and workers need to be given progress reports. For any deal to work you need the workers.
"I would suggest that the government value the workforce if they're going to make a success of it. This deal has been sold to workers as the best option on the table."
Last month, unions and the workforce were asked to adopt a "unified sense of hope" as the Scottish Government headed into negotiations to save the troubled firm.
However, the union said the longer the situation drags on the less confident staff feel about their future.
Angus MacNeil, SNP MP for the Western Isles, said: "It's difficult when you're buying a business but it's a pity that the workforce isn't better informed.
"People have to make decisions about their future and it would be good to know what's going on."
Addressing the issue, a Scottish Government spokeswoman said: "Work is continuing to secure the future of BiFab. Ministers have had a number of constructive discussions in recent weeks but there remains work to do. Ministers will continue to offer support to attract long-term investment in this vital sector of the Scottish supply chain."