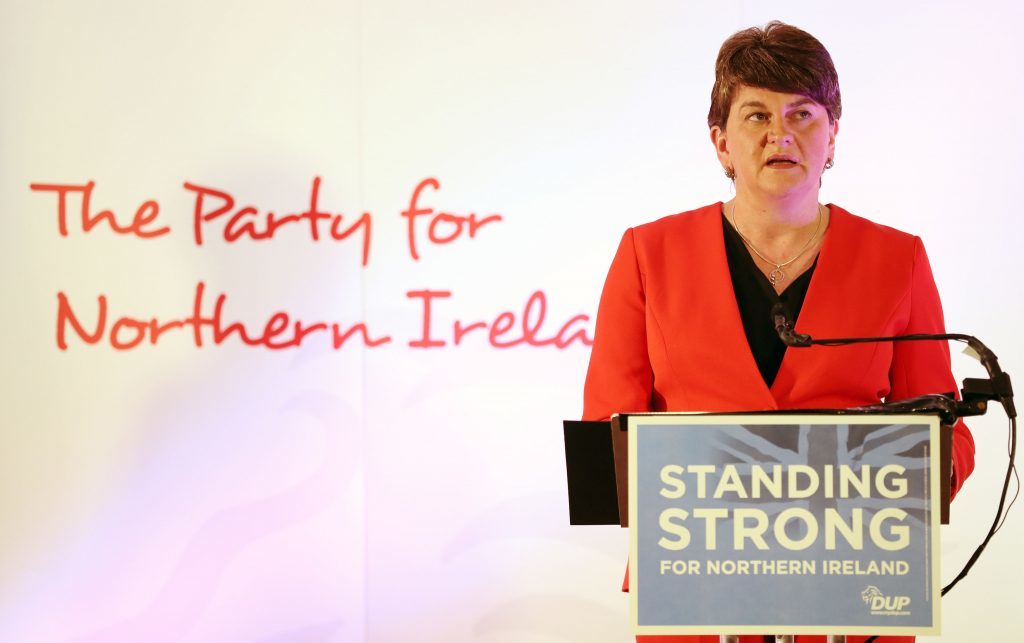 Democratic Unionist leader Arlene Foster has defended her role in Stormont's botched green energy scheme as she appeared before a public inquiry.
Mrs Foster said she would have taken different decisions as Northern Ireland's then economy minister if she had been fully informed on the flaws within the Renewable Heat Incentive (RHI) initiative.
But she told the inquiry that, based on the information available to her at the time, she did not do anything wrong.
"If I had have been made aware of various issues I would have acted differently," she said.
A furore over Mrs Foster's handling of the ill-fated RHI prompted Sinn Fein to collapse the Stormont executive in January 2017, a move that forced the DUP leader from her role as First Minister.
Giving evidence to the inquiry for the first time, Mrs Foster said the affair was a "matter of deep regret for me politically and personally".
But she claimed the issue was not the real reason Sinn Fein torpedoed powersharing, merely a "useful excuse".
The RHI was supposed to incentivise the purchase of eco-friendly wood chip boilers by paying a state subsidy to those signing up to the scheme.
However, a series of fatal flaws left Stormont exposed to a huge overspend, with the scheme paying out more to applicants than it actually cost them to buy the fuel.
This created an impetus to "burn to earn" – a reason the controversy has been dubbed the "cash for ash" scandal.
Mrs Foster was economy minister when the scheme was rolled out in Northern Ireland in 2012.
At the start of a two-day appearance before the inquiry panel, which is chaired by retired judge Sir Patrick Coghlin,
Mrs Foster said: "I very much welcome the opportunity to be here at a fact finding inquiry because up until now we have just had a lot of speculation – a lot of it misinformation, some of it very malevolent – but it is good to be here to look at the facts of what happened.
"Clearly the way in which the RHI scheme has brought us to this place is a matter of deep regret for me politically and personally, because obviously we don't have government here in Northern Ireland as a result of what happened in December and January 2016 and 2017.
"That was the reason given, I would say of course it was the reason given, but it wasn't the actual cause of the collapse of the government – but it was a useful excuse at that particular point in time.
"In terms of what happened in the scheme it is for the panel of course to make a determination as to what went wrong at that time, but certainly having reviewed all of the submissions that have been sent to me it is difficult to see what I could have done differently at that time.
"There will be known unknowns and unknown unknowns but certainly there seems to be a lot of unknown unknowns.
"I wasn't brought up to date with things that were happening in the background and I regret that. If that had have been brought to my attention things may have been a lot different."
Opening the session in the Senate Chamber of Parliament Buildings in Belfast, counsel to the inquiry David Scoffield QC stressed that Mrs Foster would be treated like any other witness.
He highlighted that the format of the investigation was inquisitorial.
"Mrs Foster like every witness who appears before the inquiry will be asked probing questions but she won't be cross-examined in an adversarial manner," he said.
Mr Scoffield said she would be treated with "rigour, courtesy and fairness".
Today, Mrs Foster told the inquiry that with hindsight it was a "regret" that her department did not "buy into" the GB renewable heat incentive scheme.
She said: "It is a regret that we didn't buy into the GB scheme but I was being led by evidence and by officials as to what was the best way forward.
"Now, with hindsight, it would have been better to have been in the GB scheme because clearly then we would have been able to take on board all the things that they were doing with the scheme.
"But at the time, because we didn't have the information in 2008/2009, we decided not to take the enabling powers.
"We eventually did decide to take the enabling powers to do an NI RHI as opposed to buying into the GB RHI.
"There wasn't any philosophical reason from me as to requiring an NI RHI, definitely not. If it made sense to go with the GB RHI, I wouldn't have had a difficulty with that."