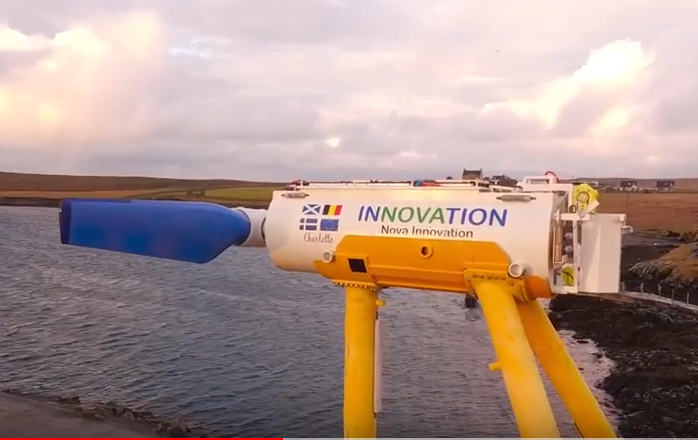 A Shetland tidal project operated by Edinburgh-based Nova Innovation has been given a boost thanks to a seabed lease extension by Crown Estate Scotland.
The new lease agreement will see Crown Estate Scotland extend the existing seabed contract at Bluemull Sound in Shetland until 2041, while allowing Nova Innovation to increase capacity on site from 0.5 to two megawatts.
In 2016, the Shetland Tidal Array became the world's first offshore tidal turbine, delivered with over 80% supply chain content from Scotland.
Nova said the extension will allow the further deployment of turbines as part of a larger array and paves the way for a "longer term project" in Shetland.
Mark McKean, development manager for Crown Estate Scotland, said: "We've watched the development of Nova Innovation's Bluemull Sound site with interest and are really pleased to be able to support further growth of this project with this lease extension.
"With their ongoing work to further enhance the technology to be utilised at the Shetland site, Nova is demonstrating that tidal energy projects are truly coming of age."
With the extension agreed, Nova said the next phase of the tidal development will see the installation of three additional turbines by 2020.
Sam Gardner, acting director at WWF Scotland, said: "This is more good news for Scotland's tidal future. With some of the most powerful tides in Europe, we're well placed to continue to lead in developing this promising technology, which will help to not only cut climate emissions but also create green energy jobs right across the country."
Hannah Smith, senior policy manager at Scottish Renewables, added: "It's vital that government recognises the benefits of developing our marine energy resource beyond just energy. Local supply chains, thriving coastal communities and the chance to capitalise on a potential multi-billion pound global market are, with the right support, all within our grasp."
Recommended for you

NZTC study finds 'significant challenge' in cost of North Sea electrification