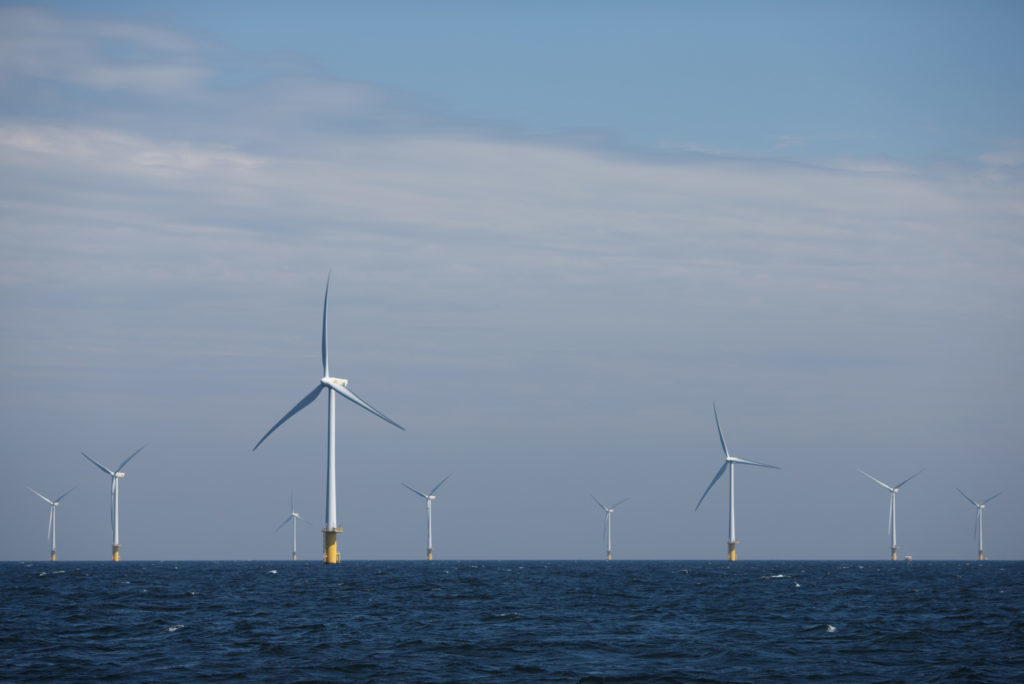 Untapped offshore wind is luring Japan's biggest commodity houses to invest in projects in Taiwan and at home, buoyed by favorable government policies that support development of the clean power.
Mitsui & Co. this month bought a stake in the Taiwanese wind developer Yushan Energy Co. that gives the Tokyo-based company a 20 percent stake in a 300-megawatt offshore project that may cost $1.8 billion to develop. Mitsubishi Corp. is working with partners to build a separate windmill venture off Taiwan's coast and Marubeni Corp. is developing two offshore projects in the northern Japanese prefecture of Akita.
"Asia is at the dawn of development of its offshore wind market," Yoshio Kometani, chief operating officer of Mitsui's infrastructure projects business unit, said in an email. "Taiwan is especially promising as it has favorable natural conditions and the government is taking initiative to improve investment and development opportunities."
Buffeted by strong breezes in the Taiwan Strait, the island has emerged as a hot spot for clean power projects as President Tsai Ing-Wen works to phase out nuclear energy while adding 25 gigawatts of renewable energy by 2025. The island is seeking to boost offshore wind capacity to 5.5 gigawatts over the same timeframe, from just 8 megawatts.
In Japan, the government is working on legislation that standardizes offshore wind development guidelines and streamline the approval process for new projects. In March, the country's Ministry of Economy, Trade and Industry updated its offshore wind map with more data on conditions and the agency is accelerating the environmental impact assessment process.
Globally, there are about 18 gigawatts of offshore wind capacity and Europe accounts for more than 80 percent of that, with the rest mostly in Asia, according to Bloomberg New Energy Finance. Asia will add 3.5 gigawatts of offshore wind capacity in 2030, more than double the 1.5 gigawatts to be added in Europe the same year, according to estimates in a December report from BNEF.
To be sure, most of Asia's offshore wind development is occurring in China, a place where historically Japanese companies have a small footprint. The world's largest energy user is ranked third globally for offshore wind capacity with about 2.8 gigawatts as of last year, after the U.K. and Germany, according to BNEF.
Japanese trading houses have been making moves into offshore wind in overseas markets for years, gaining experience to participate the coming Asia boom. Marubeni owns a stake in a project in the U.K. and Sumitomo Corp. owns parts of two Belgium and two other U.K. offshore wind farms.
Mitsubishi, which will start construction of a 950-megawatt wind project off the U.K. coast with partners this year, aims to double its renewable output so that it accounts for about 20 percent of its total power production by 2030. Offshore wind will play an important role in that expansion, according to Yusuke Takeuchi, who heads a power business development team at Mitsubishi.
"Offshore wind can be built larger and the bar is higher to enter the market compared with onshore wind," said Keiji Okagaki, deputy general manager for Marubeni Corp.'s overseas power business. "Until now, Europe has been the leading market but there will be more opportunities globally, in Asia Pacific and North America, too."
Recommended for you

Proserv picked to monitor cables at Hywind Scotland floating wind farm