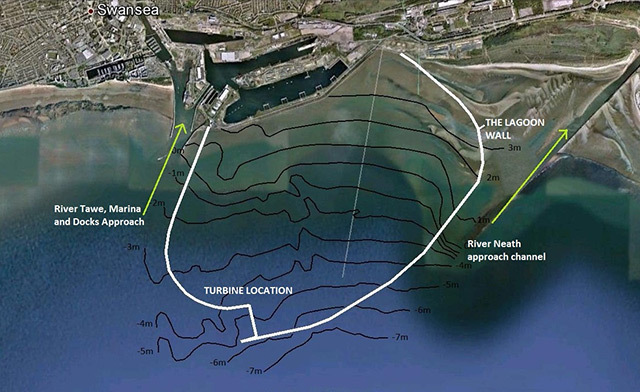 A £200 million investment package has been promised by the Welsh First Minister in a plea to Westminster not to ditch plans for a tidal lagoon in Swansea.
Labour's Carwyn Jones offered a "substantial" investment by the Welsh Government "if that would enable the project to move forward".
Welsh Secretary Alun Cairns has warned the numbers involved in the scheme "are awful" and there been speculation Business Secretary Greg Clark will reject the plan.
In a letter to Mr Clark and copied to Prime Minister Theresa May, Mr Jones said a "full and final offer" from both Governments was needed soon to "put an end to the ongoing uncertainty" over the future of the project.
He wrote: "As I have repeatedly made clear to the UK Government, I am prepared to consider a substantial equity and/or loan investment by the Welsh Government in the Swansea Bay tidal lagoon if that would enable the project to move forward."
Officials are understood to have been aware of the £200 million on offer previously, but sources said it does not address the "size or scale of the financial requirements" of the £1.3 billion scheme.
Mr Jones called for the UK government to commit to a "contract for difference on the same terms as that offered to Hinckley Point C".
The nuclear power station being built in Somerset secured a £92.50 megawatt hour so-called strike price, a guaranteed amount for the future electricity generated.
In an email seen by BBC Wales, Mr Cairns said the lagoon would cost "twice the price of nuclear".
He wrote: "No decision has yet been taken and I have been an advocate from the outset but numbers are awful – twice the price of nuclear, without the prospect of any significant savings from lessons learned on first."
Mr Jones said further work would be needed on plans for both governments to make a joint offer to Tidal Lagoon Power, the company behind the scheme, but the move would "strike an appropriate balance" between supporting a low carbon energy generation project while providing value for money.
He added: "It would need to be a maximum, full and final offer from both Governments.
"I would welcome a discussion about this proposal as soon as possible so that we can put an end to the ongoing uncertainty and work together to identify a way of progressing this innovative project in a way which is affordable and ensures value for money."
A Department for Business, Energy and Industrial Strategy spokesman said: "The Government is considering the findings of Hendry review into tidal lagoons and an announcement will be made in due course."
Recommended for you

Fife's new FastBlade test centre to help speed up tidal energy development