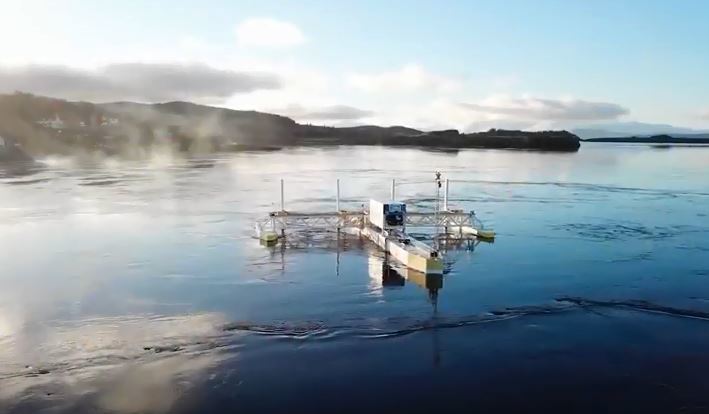 Sustainable Marine Energy's (SME) PLAT-I tidal energy platform is to travel to Nova Scotia for further testing after completing its West Coast trial.
The tidal turbine has been extensively tested for its first phase which took place at Connel Sound, near Oban, on Scotland's West Coast.
Having proven the installation, operation and performance aspects of the platform, this second phase of testing will put its performance through its paces in the harsher climate of Canada.
SME said that Black Rock Tidal Power has applied to the Nova Scotia Department of Energy for permission to install the platform at Grand Passage for a minimum trial period of 3 months and, as part of that process, is currently engaging with stakeholders in the local area.
Jason Hayman, managing director of SME, said:"PLAT-I is graduating from Scotland to Canada, which is an important start to the export story for the Scottish marine energy industry. It also represents a change of gear for Sustainable Marine Energy, we started as an R&D company and are rapidly changing into a project delivery company based in Scotland.
"This has demonstrated by what our team has achieved in little more than 12 months. We have consented a new site, designed and built a new platform and have successfully run our complete testing programme in record time. I am grateful to the local community in Connel who hosted the first PLAT-I test, and very excited about what the next 12 months holds for us in Nova Scotia."
Late last year, the tidal energy system began generating power for the first time from Connel Sound.
The power take-off system comprises four SCHOTTEL Instream Turbines (SIT) and an accessible power conversion system hosted in an on-board container.
Designed in 2017 year, the device spent last summer at fabrication company JBS Group Scotland, in Peterhead.
SME said that the tidal turbine will most likely end up in the Philippines, where it will be used to aid smaller communities who currently rely on unreliable fuel powered generators.
Recommended for you

Fife's new FastBlade test centre to help speed up tidal energy development