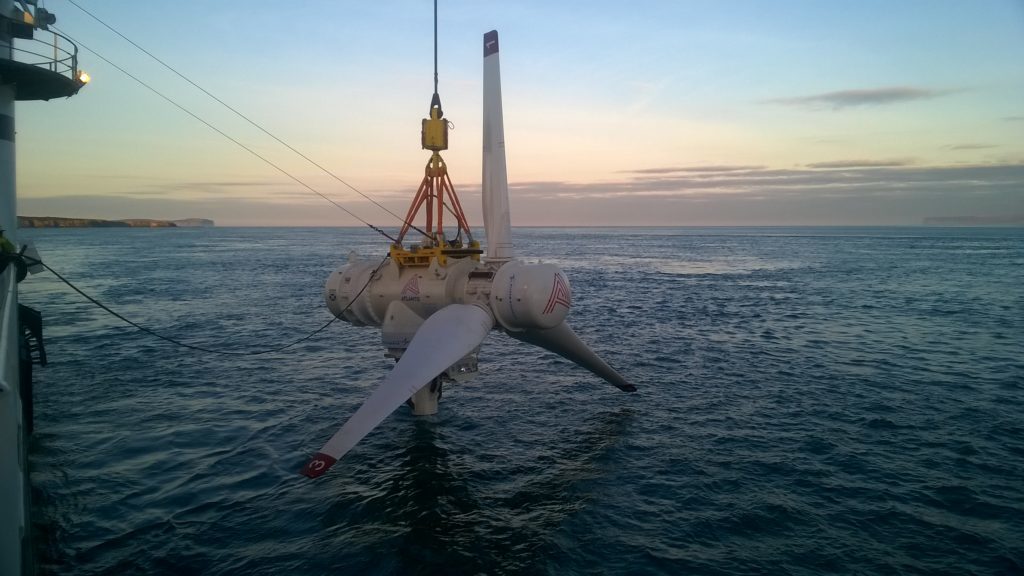 The world's largest tidal energy plant has suffered damage to its turbines just months after construction ended.
MeyGen is Scotland's flagship tidal energy scheme in the Pentland Firth, near Orkney.
A fault has been found on two of the project's four turbines, which will have to be removed for repairs, which are expected to take two months.
Majority shareholder Simec Atlantis Energy (SAE) said its monitoring systems revealed the Andritz Hammerfest Hydro (AHH) turbines had developed generator glitches.
The one remaining AHH turbine, plus Atlantis's own AR1500 turbine will continue to generate electricity.
MeyGen's construction and commissioning phase was completed in March and is currently in the warranty period.
Despite the fault coming so soon after construction, it has been argued that "teething problems" are to be expected. As a result, a "conservative" estimate is being made for the first full year of operation.
Adam Forsyth, director of alternative and resource research efficiency at financial services firm Cantor Fitzgerald Europe, said: "The turbines are in their warranty period and we do not, therefore, expect any material impact on numbers.
"We have in any case assumed a conservative ramp-up in the first year of full operation.
"Teething issues are not uncommon and Atlantis has already shown that it can remove and reinstall the subsea devices without issue."
MeyGen has generated more than eight gigawatt-hours (GWh) of energy to the grid to date.
The array also exported a world record 1.4GWh of electricity to the grid in a single month this year, enough to power 5,420 average UK homes during that month.
SAE was created through a reverse takeover deal completed last month. The agreement, first announced in December, saw Scottish firm Atlantis Resources acquire the Uskmouth power plant in South Wales from Simec Energy.
Simec, part of industrial magnate Sanjeev Gupta's GFG Alliance, took a near-50% stake in Atlantis, leading to the name change to SAE. Atlantis said the deal gave it more "firepower" for tidal projects.
Recommended for you
X

Forsyths boss says oil and gas recovers 'at just the right time' as whisky slows