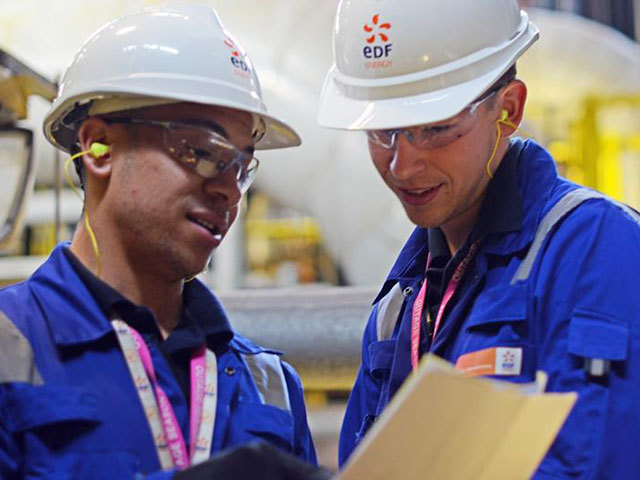 The developer of Britain's first nuclear power station in more than three decades has approached 12 pension funds about helping finance a sister plant on the other side of the country.
Electricite de France SA is working on ways to pay for its Sizewell C project in East Anglia that will make it cheaper than the Hinkley Point C nuclear plant it's building on the coast of Southwest England. Hinkley has been a lightning rod for controversy since the government pledged to pay 92.50 pounds ($122) a megawatt-hour for its power, more than 60 percent more than the latest offshore wind farms.
EDF hopes that it can make a substantial dent in the costs of the new project by copying Hinkley's design at the Sizewell facility and by getting the government and investors to shoulder some of the construction risks, according to Humphrey Cadoux-Hudson, managing director of nuclear development at EDF's U.K. unit.
"There's an opportunity at Sizewell C to bring down construction costs by making a near identical copy of Hinkley Point C — we believe that reduction is around 20 percent," Cadoux-Hudson said. "We've spoken to more than a dozen potential investors who are all interested in knowing more."
Prime Minister Theresa May's government has estimated it needs to draw in 100 billion pounds within the next decade to upgrade power grids and replace aging generation plants as the bulk of Britain's nuclear fleet finishes its life in service. Atomic reactors provided about a fifth of the U.K.'s electricity needs at peak, and all except one will be closed by 2030 without new investment in projects like Sizewell and Hinkley.
With Hinkley, EDF is paying for all the risk of cost overruns and delays, meaning consumers pay nothing until the plant is working in the mid-2020s. Hinkley was structured that way because the government was reluctant to absorb construction risks on what's a first-of-its-kind project in the U.K.
The Sizewell project would place two new reactors producing a total of 3.2 gigawatts of electricity next to an existing nuclear station, replicating the facilities designed for the Hinkley plant. The advantage is that regulators will have already approved all the parts and mechanisms that will be used in Hinkley, which smooths the oversight process. It takes months and sometimes years to get clearance for new parts to be used in atomic plants, since the industry is so carefully scrutinized for safety.
The U.K. government said in June that it was thinking about taking on construction risks with the nation's next nuclear plants in order to drive down their costs. Ministers made it clear that the deal agreed for EDF's Hinkley Point C wouldn't be the template for Sizewell or other future nuclear projects.
One option under examination is the regulated asset model where the government would provide a contingent support package, making the taxpayer liable for some construction risks. Such a method was used to pay for the Thames Tideway Tunnel, a 4.2 billion-pound sewer line through the north of London. Having a government guarantee in place helped sponsors of the project tap private-sector financing at a lower price.
"We can significantly cut the cost of capital by using a regulated asset model, possible because the risks of the project will be lower as other plants become operational," Cadoux-Hudson said.
EDF plans to offer bonds linked to the consumer price index with durations of 10, 20, and as much as 50 years. That's in line with a business model of a regulated asset.
Hinkley cost about 20 billion pounds in 2015 money, and EDF hopes to cut construction costs by about 20 percent from that level for the Sizewell plant.
The U.K. is in talks with officials at Hitachi Ltd. in Japan about taking an equity stake in a 20 billion-pound nuclear project in Wales, acknowledging that by helping the company shoulder construction risks it could reduce the final cost of the plant to taxpayers. The U.K. is keen to involve the private sector in any financing plan it agrees.
Recommended for you

China's climate goals hinge on a $440bn nuclear buildout