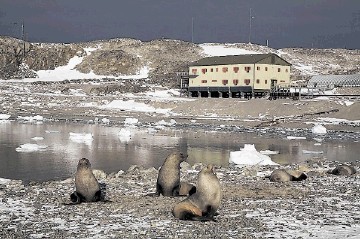 SUMMER sunlight 24-hours a day will help power a specialist Antarctic survey team's operations.
RenEnergy, a renewables firm from Norfolk, has been asked to supply the British Antarctic Survey (BAS) with two solar panel systems.
They will be installed on a new research building at the BAS's main Antarctic base, Rothera, between December this year and March 2012.
Once completed the energy generated from the panels will offset emissions from the main generators.
Unlike the UK where solar panels are installed on south-facing roofs, the Antarctic experiences 24-hour sunlight in the summer, allowing BAS to generate energy for the research centre by installing solar panel systems on each side of the roof.
BAS has already installed various technologies including cavity-wall installation, LED lighting, and inverter driven pumps to improve its energy efficiency in what is one of the coldest environments in the world.
The photovoltaic arrays are part of a new Dutch science unit being built at Rothera.
It will house containerised laboratories where scientific experiments will be conducted.
Damian Baker, RenEnergy managing director, said: "It has been a privilege to supply British Antarctic Survey with solar panel systems and to provide advice on how to improve their energy efficiency.
"It is great to see BAS thinking about their carbon footprint and looking to invest in becoming more energy efficient. We wish them all the luck for their research projects."
Recommended for you

Big oil steps up investments in Indian gas and renewables