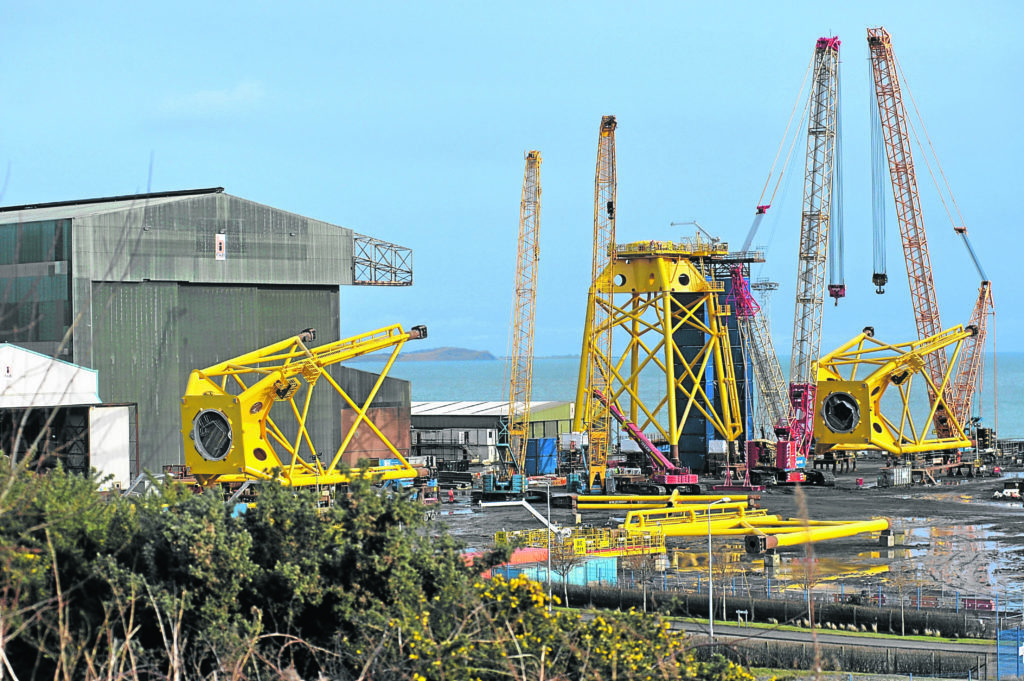 Trade unions said today that the "great renewables rip off must stop now" following a "successful" trip to Canada to meet new BiFab owners DF Barnes.
GMB and Unite said the meeting with the Newfoundland firm was "productive", but hit out at the lack of supply chain opportunities in Scotland.
GMB Scotland secretary Gary Smith described the situation for Scottish workers a "rip off", adding that those who subsidise Scotland's windfarms are "denied the opportunity to build those windfarms".
The anger from unions centres on recent redundancies amid a dearth of future offshore wind contracts.
DF Barnes revealed last month that it was in "active discussions" with the proposed Moray (East) Offshore Wind Farm in the Moray Firth and the Neart Na Gaoithe project in the outer Firth of Forth.
But unions and workers within BiFab have voiced concern that the two approaching Scottish supply chain contracts could go to foreign firms.
Mr Smith and Unite Scottish secretary Pat Rafferty said: "Our meetings with the company and its owner over the past couple of days have satisfied us as to the company's commitment to the Scottish yards and their determination to make those yards a success for the short and the long term.
"For all the wind turbines that we have in Scotland the fact is the manufacturing supply chain is almost non-existent. We are satisfied now that the Canadian acquisition of BiFab is a unique opportunity to address the lack of a manufacturing supply chain in the Scottish renewables sector.
"It is also clear to us the company want to make Bifab a world leader in the renewables and energy sector with the Scottish yards being key to that success. The company have assured us that they are committed to working with our unions and to create a successful business that creates highly skilled jobs in Scotland.
"We have been clear that our number one priority is creating jobs at these yards for people in Fife and Lewis, and to do this, it is now pressing and vital that we secure contracts for the yards which BiFab are currently tendering for.
"Our message to the wind-farm developers about to award these contract is quite simple: It cannot be the case that the people of Scotland, who pay a premium on their energy bills to subsidise the offshore wind farms, are denied the opportunity to build those wind farms. We have a fantastic, skilled workforce in Scotland and the wind farms that are going to be put in Scottish waters should be built right here in Scotland in the three BiFab yards. We are paying for them and we should build them.
"The great renewables rip off must stop now, we want jobs and opportunities for our communities."
Recommended for you

First turbine in place at Neart na Gaoithe wind farm off Fife