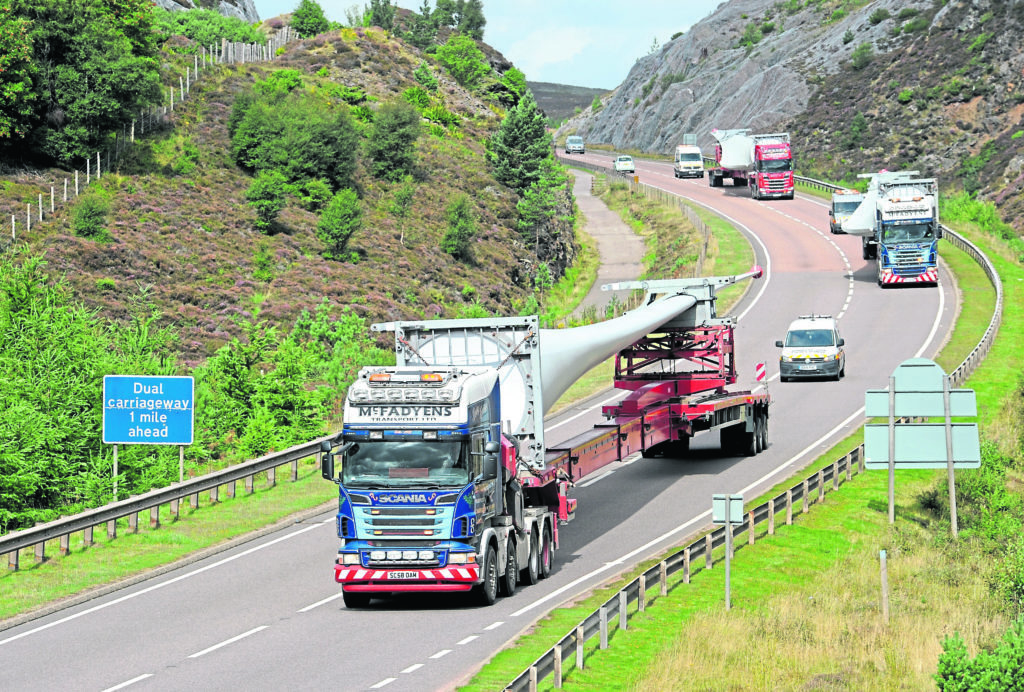 Motorists faced delays on the A9 yesterday as lorries transporting parts for a controversial 13-turbine wind farm at Tom nan Clach took to the road for the first time.
Three vehicles carrying blades to be placed on the 410ft towers set off from Inverness Port under police escort shortly after 10.30am.
Ahead of them was a 35-mile journey down the A9 Inverness to Perth road before turning on to the A95 at the Granish Junction.
The convoy headed north through the villages of Dulnain Bridge and Duthil, with motorists facing delays of up to 15 minutes as the long loads navigated tight bends at Duthil to reach the site on the Dava Moor.
The total transit time is around three hours and transportation will be taking place over the course of the next five weeks.
A spokeswoman for Infinergy, the wind turbine manufacturers, estimated the wind farm development would provide power to around 29,500 homes.
The spokeswoman added: "The convoys will be managed by a police escort.
"The transport haulier will liaise closely with the police to minimise any disruption, avoiding peak times as far as possible.
"The police will monitor tailbacks and the convoy will pull over at suitable sections of road to allow traffic to pass."
The lorries are to travel in packs of three and will leave twice a day from Inverness Port, firstly at 10.30am, with a second journey at 1pm.
Road users took to social media to share information on the lorries' movements yesterday, with an apparent knock-on effect to the A96 Inverness to Aberdeen road.
One said: "I made the mistake of doing the A96 today just east of Elgin, met them didn't get past till the crawler just past Fochabers. A 3hr run from Alness took nearly 4 hrs."
In 2009 initial plans for a larger 17-turbine wind farm at the site were rejected by councillors. After a public inquiry in August 2011 Scottish Government ministers consented to the project in July 2013.
Infinergy reapplied in 2015 with fewer of the taller turbines, suggesting technological advances would allow the smaller farm to produce 26% more power than was originally thought.
Councillors again rejected these proposals which, again, were overruled by government ministers.