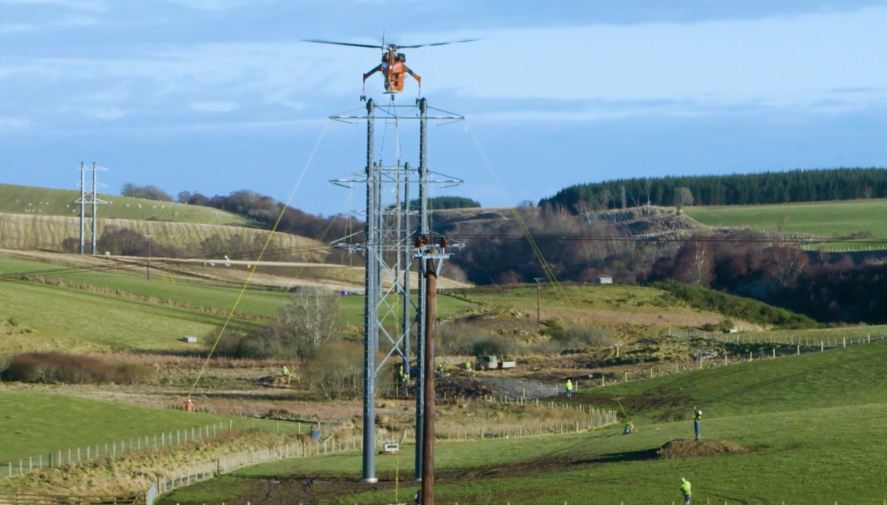 A pioneering new technology has been used to electrify a power connection for a controversial windfarm in Moray.
In an industry-first for the UK, plastic poles have been used for the Dorenell windfarm connection to the transmission grid.
A design rethink to traditional steel pylons or wooden structures was needed after local residents objected to their visual and environmental impact.
The reinforced polymer structures have a longer lifespan than their wooden counterparts and can be recycled.
A series of 140 poles were put in place over five days by Scottish and Southern Electricity Networks (SSEN) and Balfour Beatty, connecting the windfarm near Dufftown to a substation near Keith.
It will allow for 220megawatts of power generation from the wind development.
The poles were installed through use of an aircrane helicopter which allowed for a swifter installation than normal methods, which SSEN said "massively reduced" the impact on the land.
The controversial windfarm development, run by EDF energy, attracted 640 objections when it was first proposed.
It also survived two court bids from drink giants William Grant and Sons, who own Dufftown-based Glenfiddich, who had been desperate to see it blocked.
SSEN's lead project manager, Paul Higginbotham, said: "We are delighted that we have delivered the successful energisation of the Dorenell wind farm connection on time, ready for our generation customer to start exporting to the National Grid.
"Despite being faced with a number of significant challenges to overcome, the innovative solution we developed with Balfour Beatty has ensured that we met the needs of our customer as we continue to enable the transition to a low carbon economy through the decarbonisation of the electricity system in the north of Scotland.
"The successful deployment of composite poles on our network is also an exciting development which we will now be considering for future grid connections and network reinforcements."
The composite polymer technology is already in use in Canada, the USA, Scandinavia and Ireland.
Andy Smith, operations director for Balfour Beatty's power transmission and distribution business in Scotland added: "Working in collaboration with SSEN, Balfour Beatty identified and developed a truly innovative infrastructure solution that ensured the safe and efficient energisation of the Dorenell wind farm.
"The use of a specialist air crane helicopter and durable composite plastic poles, allowed the Balfour Beatty construction team to overcome the rugged terrain in North East Scotland whilst minimising disturbance to the environment and community."