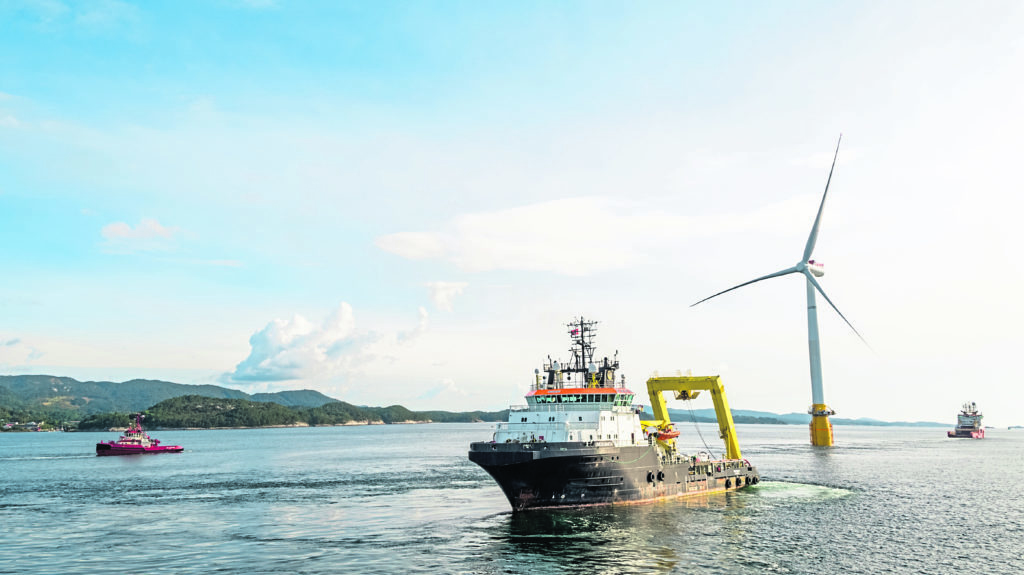 This month, RenewableUK, Scottish Renewables and Aberdeen Renewable Energy Group (AREG) are joining forces to bring two events to the UK's energy capital at the AECC in Aberdeen – Floating Offshore Wind 2018, and Cables 2018.
Floating Offshore Wind 2018 (October 30) is the UK's only dedicated event of its kind and is supported by industry leaders Equinor, Highlands and Islands Enterprise and AREG, and co-organised by RenewableUK and Scottish Renewables.
Minister for Energy, Connectivity and the Islands, Paul Wheelhouse MSP, will be in attendance with presentations delivered by Highlands and Islands Enterprise, Equinor, Marine Scotland, Floating Power Plant, Stiesdal, Atkins and Green Giraffe.
Attendees will be able to network with industry leaders and meet a delegation from the US at the evening drinks reception.
The event comes at a critical time with Equinor-Masdar's Hywind project outperforming expectations. The next generation of schemes are under construction or in development, while the UK Government is working on an Offshore Wind Sector Deal with a clear role for floating offshore wind.
The conference agenda covers key topics including the global opportunities in floating wind, delivering the next phase of UK projects and how to strengthen the supply chain, operations and maintenance.
RenewableUK's newest event – Cables 2018 (October 31) – offers delegates a learning experience tracking the entire cables lifecycle.
Supported by event partners Irish Sea Contractors, CWind, EDS Group, AREG and Scottish Renewables, visitors will lead industry engagement on key issues surrounding subsea power cables in offshore renewables, offshore transmission infrastructure and interconnectors.
The event focuses on cables life-cycle through a series of plenaries, workshops, and quick-fire pitches to answer key questions. Topics include supply chain needs given the significant growth in international interconnectors and offshore wind; improving insurance provision and financing arrangements by reducing installation and manufacturing issues and third-party damage; and the positive effects of collaboration across the supply-chain, regulators and owner/operators.
The line-up features experts from Irish Sea Contractors, Orsted, Boskalis Subsea Cables & Flexibles, Marine Management Organisation, Helix Canyon Offshore, Ternan Energy, Codan Forsikring, DEME Group and Bibby Hydromap.
AREG chairperson, Jean Morrison, said: "It's an exciting time to be involved in the renewables sector and these two events in Aberdeen provide great opportunities for very important aspects of the industry to showcase their successes in the UK and abroad and get the conversations flowing.
"RenewableUK, Scottish Renewables and AREG members have been at the core of helping to develop many projects of great economic value, resulting in billions of pounds worth of renewable energy activity including over £5 billion of offshore wind in development or construction around the north-east coast of Scotland.
"These two upcoming events, Floating Offshore Wind 2018 and the new Cables 2018, will give those involved and those who wish to be more integrated a real chance to discover more."
The RenewableUK events coincide with a special AREG event on international trade, welcoming partners from Belgium, Denmark, Spain, Sweden and the US to Aberdeen.
Recommended for you

AREG Energy Futures conference to highlight size of prize for north-east