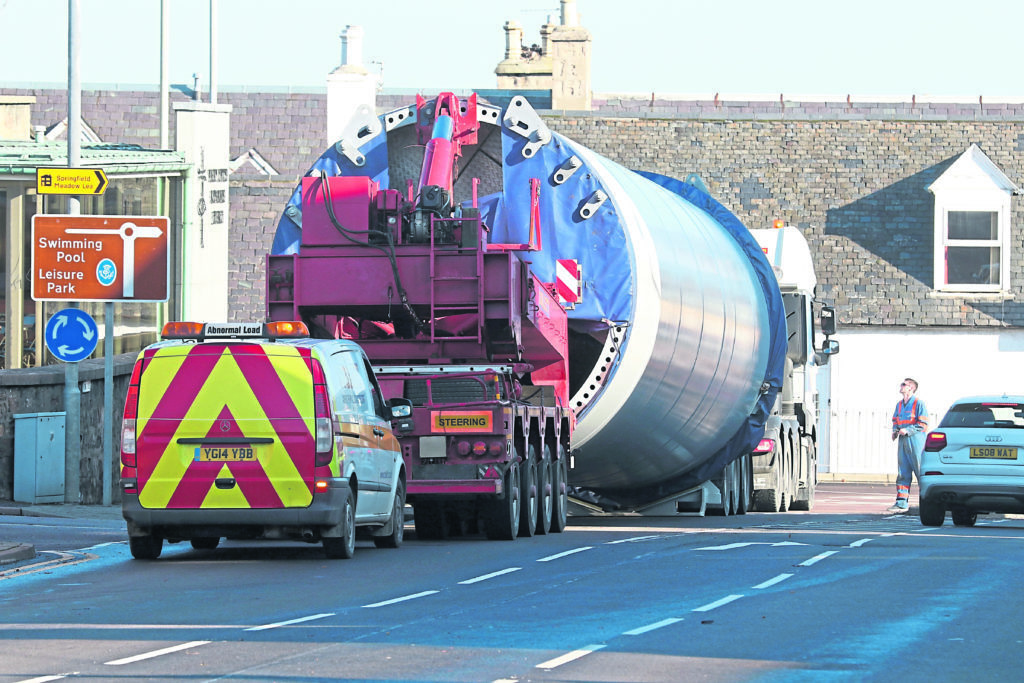 Traffic came to a standstill in Nairn yesterday after a lorry carrying turbine parts broke down in the centre of town.
The vehicle, owned by Collett and Sons Ltd, was heading through Nairn as part of a convoy delivering turbine components to Dorenell wind farm when it broke down on its approach to the central roundabout around 10.30am.
The cab and trailer, carrying a base component for one of the site's 59 turbines, blocked one lane for more than an hour, causing severe congestion on one of the region's busiest roads.
Motorists found themselves in tailbacks stretching for more than a mile along the A96 as employees worked hastily to rectify the issue by changing the vehicle's main cab.
Police were also at the scene, directing traffic.
The vehicle was able to continue its journey around 11.25am.
A Collett employee at the scene said: "We were notified about half an hour ago and we are ready to get going now.
"The remainder of the convoy carried on, so we weren't causing major congestion."
The abnormal load and heavy transport specialist has since confirmed the breakdown came as a result of a "mechanical issue".
A spokeswoman for Collett and Sons Ltd said: "Unfortunately, a breakdown of one of our vehicles occurred today due to a mechanical issue. The issue was temporarily repaired before the vehicle was taken to an approved repair centre.
"Breakdowns do occasionally occur but our team acted quickly to rectify the issue and remove the vehicle in order to minimise disruption to other road users."
The parts for the wind farm, about five miles from Dufftown, have been shipped into Inverness before being taken by road to the site.
The convoys which are being conducted on behalf of EDF Renewables are expected to continue until November.
A spokeswoman from EDF Renewables said: "We've been working hard with our project partners and the police to make sure the construction of the Dorenell wind farm has minimal impact on the local community, so we're extremely sorry for any inconvenience caused by the broken-down lorry this morning."
Councillor Tom Heggie for Nairn and Cawdor said: "It highlights the issues we have with the A96 in general and any breakdown causes an enormous amount of confusion.
"It's just one of these things that will happen but it's unfortunate it's happened in the middle of our town."