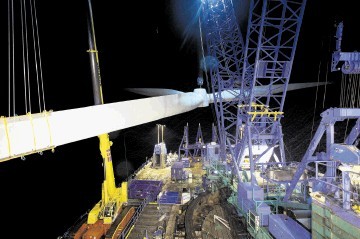 EUROPE'S offshore wind industry could be investing £8.9billion (10.4billion euros) in turbines annually by 2020, growing to £14.5billion (17billion euros by 2030), according to the European Wind Energy Association.
This now fast-growing sector is expected to generate hundreds of thousands of new jobs across the EU, despite the current economic and financial crises that currently beset the Eurozone and others like the UK.
By 2020, the prediction is that wind energy will support 460,000 jobs EU-wide of which around 170,000 will be offshore. The offshore headcount alone could reach some 300,000 by 2030.
By comparison, the number of UK jobs underpinned by the offshore oil and gas industry currently stands around 400,000.
Moreover, it represents a massive opportunity for the maritime energy supply chain . . . both for heritage oil and gas contractors keen to capitalise on a complementary business opportunity and new entrants from other sectors like marine civils.
And with the rump of offshore marine contractors operationally headquartered in Aberdeen, it should provide unparalleled, valuable diversification opportunities.
Detailing demand for construction vessels, the EWEA report notes that jack-ups will remain the primary workhorse. However, the industry is seeing increased specialisation of vessels for offshore wind generally and for the specific tasks performed on an offshore wind site.
The report says: "The vessel supply chain outlook is strong through to 2015 with several new builds, increased levels of competition and supply likely to meet demand. Through the latter half of the decade increasing pressure may return if further investments are not made."
Further, the report highlights the importance of turbine substructures as a major and valuable part of offshore wind. With many thousands of turbines scheduled to be installed in the North Sea, this presents a further major business stream opening for offshore fabrication facilities at Burntisland on the Forth and Nigg on the Cromarty Firth.
EWEA says in its research: "Substructure manufacturing brings a significant amount of supply chain value as substructures represent a large part of the capital expenditure in an offshore windfarm.
"This shows that it is not necessary for there to be a wind turbine manufacturer in a country for that country to have a significant wind energy industry and job creation."
It continues: "Substructures present an opportunity for domestic manufacturing due to lower technical barriers for entry via, for example, the diversification of shipyards or tower manufacturers."
EWEA expects around 1,000 megawatts (one gigawatt) of new offshore wind capacity to have been installed in European waters by the end of this year alone.
This would bring total offshore wind capacity to almost 4GW, reinforcing Europe's position as the world leader in offshore wind power.
Currently, almost 6GW of offshore wind capacity is under construction in Europe, 17GW have been consented by EU Member States and there are future plans for a further 114GW.
Therefore, it is expected that during this decade, offshore wind power capacity in Europe will grow tenfold.
EWEA estimates that by 2020, 40GW of offshore wind will generate enough power to meet over 4% of the EU's total electricity demand.
Between 2020 and 2030 a further 110GW of offshore wind capacity is expected to be added in European waters thus boosting generation capacity to 14%.
EWEA says that offshore wind is about 15 years behind onshore wind in terms of maturation and that the anticipated growth will fuel a "new industrial" sector in Europe.
In short, offshore windpower will play a key role in Europe's energy future.
Recommended for you

UK sets another wind-power record thanks to blustery weather