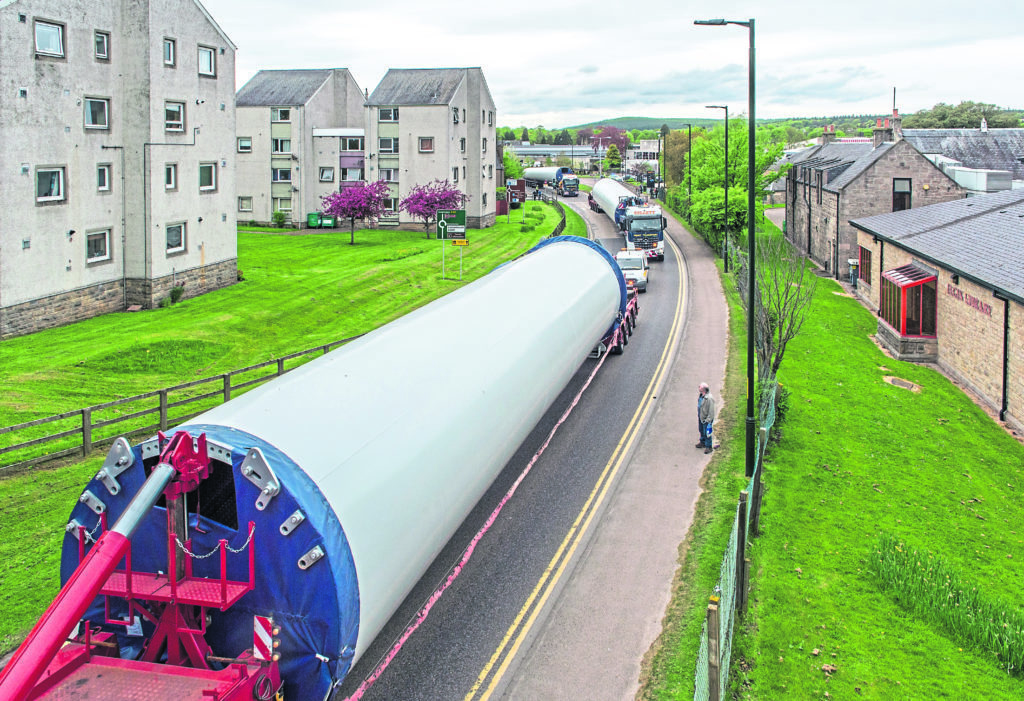 Motorists have been warned to expect traffic chaos as huge wind turbine parts are transported through Aberdeen over the next six weeks.
The massive pieces of machinery have been delivered to Dorenell Wind Farm, near Dufftown, from the port at Inverness for the past few months.
But due to roadworks on the A96 Inverness to Aberdeen road, they are now being shipped to Aberdeen Harbour instead.
The first of a possible series of 16 convoy deliveries via Aberdeen will begin at 10am today.
Lorries bearing the large loads will head from Commercial Quay on to Market Street, before passing through Trinity Quay, Virginia Street, Commerce Street and West North Street and then joining the A96.
The deliveries will be brought to Huntly,  then south on the A920 towards Dufftown and finally transported along the A941 towards the site in the Cabrach.
Three lorry-loads travelling in convoy will leave Aberdeen Harbour at about 10am each day and will take roughly four and a half hours to reach the development.
Deliveries are expected to take place twice a week for up to six weeks.
Owners of the wind farm, EDF Renewables, last night warned motorists of "possible traffic delays".
But project director John Penman stressed that the firm's "main priority" is "to cause as little disruption to road users as possible".
He said: "We use a specialist haulage company with extensive experience in transporting very large loads like these turbine parts and are always accompanied by a police escort."
Aberdeen City Council's transport spokesman, Ross Grant, said the local authority had helped to plan the deliveries in a manner that would "minimise disruption".
He said: "I would encourage commuters driving in the vicinity of these convoys to be mindful as they make their way through the city."
Six blades were taken from Inverness to Dorenell, in two convoys, on Saturday and Sunday.
The Highland capital will no longer be used to ship the large loads due to a six-month roadworks scheme, worth more than £1 million, being carried out at Keith.
The bridge across the River Isla and heritage railway in the Moray town will have temporary traffic lights on it until March to preserve the crossing for the future.
Mr Penman encouraged regular users of the A96 to sign up for an alert system, which sends a text or email message the evening before our convoys are due to travel, by calling 07900 917143.
Recommended for you

Green energy fans dance atop wind turbine to spotlight 'majesty' of renewables