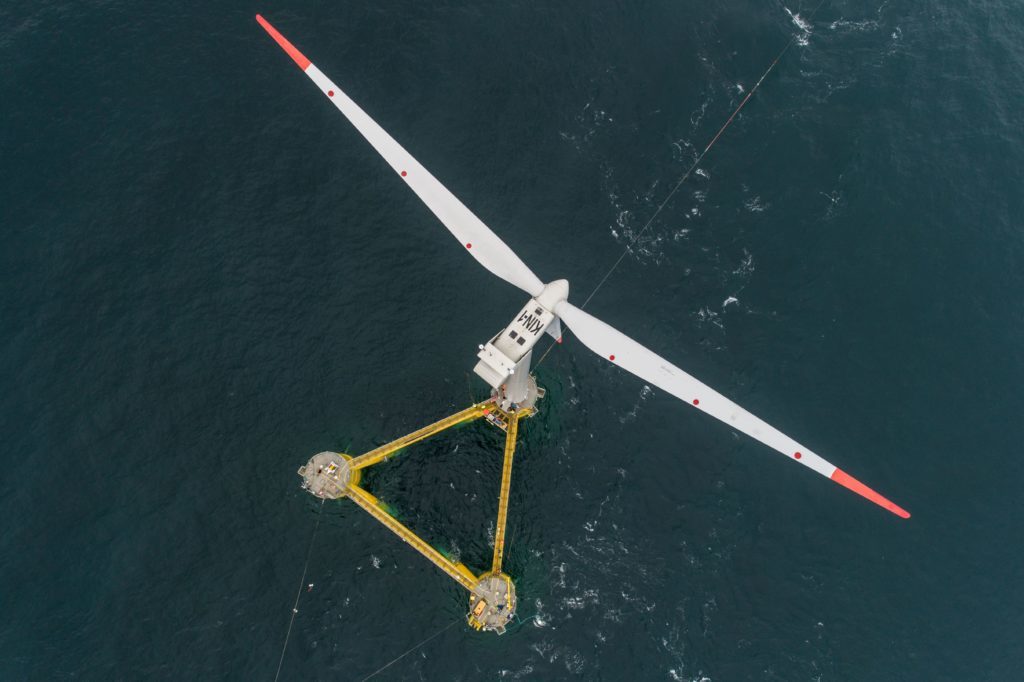 First power has been reached from what is expected to become the world's largest floating windfarm.
The developers for the Kincardine Offshore Windfarm Ltd (KOWL) made the announcement in Aberdeen yesterday at the Floating Offshore Wind UK conference.
Assembled in Dundee, before being anchored nine miles offshore between Stonehaven and Aberdeen, the wind farm was initially expected to cost £250 million when it was announced in 2016, but will now cost closer to £500m.
Run by Pilot Offshore Renewables, the firm said it is a "watershed moment for the six turbine 50MW test and demonstration project".
The remaining five turbines will be installed over the next two years.
KOWL managing director Jaime Altolaguirre described achieving first power from the project as "an incredibly important milestone".
He said it secures Scotland's position at the forefront of the global renewables industry.
The project is backed by Spanish firm Cobra, subsidiary company of Grupo ASC, which is owned by Real Madrid chairman Florentino Perez.
KOWL has also completed the installation of a 17km cable to the mainland that will carry the electricity generated at the site.
The project is 60% backed by Spanish construction company Cobra, subsidiary company of Grupo ASC, which is owned by Real Madrid chairman Florentino Perez.
KOWL director Allan MacAskill announced last month the project will cost "about £350 million", £100m more than previously reported.
Sian Wilson, senior development manager at Crown Estate Scotland, said: "It is fantastic to see the Kincardine Offshore Windfarm Ltd floating technology deployed successfully and we would like to offer our congratulations to the team with whom we have worked closely.
"Offshore wind is fast becoming an accepted contributor to the UK energy mix and we believe floating wind innovation creates the opportunity to maximise the contribution to clean energy, and the wider value to Scotland."
Speaking during the conference in Aberdeen, Scottish Minister for Energy, Paul Wheelhouse, said: "I am delighted to support a project which demonstrates Scotland's ability to harness its enormous offshore wind potential.
"Kincardine generating its first power to the National Grid represents a significant step forward for the project, which has been made possible by the introduction of the enhanced ROCs scheme by the Scottish Government in 2013.
"This innovative project brings with it significant potential for economic development, and I look forward to seeing the Scottish supply chain maximise the opportunity presented during the remainder of the programme."
Recommended for you

China yard to supply towers for Dogger Bank – world's largest windfarm in UK