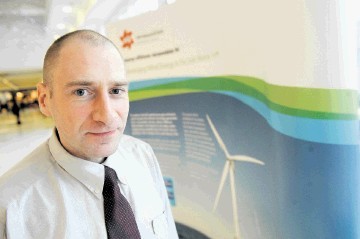 AN EXHIBITION in Inverness yesterday on the proposed major offshore wind farm in the Moray Firth received a positive response, said developers.
Moray Offshore Renewables (MOR) plans to build more than 200 turbines 14 miles off the coast of Caithness.
The firm said up to 1,400 people could be involved in the construction with almost 300 jobs sustained during the operation of the wind farm.
If it was built now, it would be the largest development of it's kind in the world.
The wind energy firm displayed details of their proposals at the exhibition in the Eastgate Shopping Centre yesterday, including details of visibility and environmental impact surveys to be carried out.
The wind farm would be visible in many areas along the coast from Helmsdale to Wick.
Communications manager, Craig Milroy, said the general reaction from the public had been "very positive".
The exhibition started in Wick on Wednesday and travelled to Helmsdale before heading to Inverness.
It will go on to Fraserburgh, Buckie and Elgin, return-ing to Inverness on December 6.
Mr Milroy said there had been significantly more interest than during similar exhibitions the company held 18 months ago.
He said: "The two big issues that came up last time were how the project will look and economic and employment opportunities.
"We have visuals and a photomontage mock up so people can see how the turbines will appear. The view from shore is very limited."
Retired helicopter pilot, Ian Richardson, 78, of Westhill, Inverness said he was in favour of offshore wind projects.
He said: "I prefer them to onshore. Offshore ties in with the oil industry and we should have the technology to build the platforms. We want to make sure that we are making some of the structures needed and they are not being constructed overseas."
Gardener Jackie Liuba, of Applecross, Wester Ross, said she was worried about renewable energy in general and did not feel it provided the electricity predicted.
She said: "I would have thought it would have been better to have tidal wave power. I'm concerned we could end up with debris on the hills and in the sea that we can't do anything with when these projects wind down."
Recommended for you

Podcast: Berwick Bank offshore wind farm to create 'nearly 5,000 jobs'