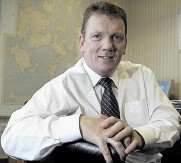 ORKNEY'S lead in marine renewables is battling a barrier over electricity grid transmission issues, according to the islands' council.
Stephen Hagan, Orkney Islands Council (OIC) convener, said the authority had taken on extra staff to specifically deal with issues around transmission charging and grid capacity.
But hope that a solution can be found is in sight, according to Ian Johnstone, chairman of OIC's development and regeneration committee.
Mr Johnstone said the grid network was set up to feed energy from the centre to peripheral areas and as it got farther out the infrastructure got smaller, which meant there was not enough capacity to send all the power generated in Orkney to the rest of the UK.
He added that the grid transmission charging system encouraged generators to build power stations close to where electricity was needed; those closest to larger populations were paid to transmit electricity but those on the periphery had to pay more.
"Now the vast majority of the resources are at the periphery and have to be fed to the centre," said Mr Johnstone, adding: "It is not just us; it is also Wales, Northern Ireland and any remote areas with resources.
"This causes an issue for investment. Nearer to London you get paid to put power down the line, whereas we are paying.
"Another issue is that the developer has to underwrite the cost of the upgrades, up until now 100%.
"That has been a barrier to development in Orkney but Ofgem (the energy industry regulator) has recognised that and is carrying out a consultation."
The issues do not stop there but the council is working hard to make the most of its opportunity to use and export the electricity the islands are expected to produce, with ideas ranging from an electric vehicle fleet to district heating schemes.
"Perhaps we could electrify the ferries," added Mr Johnstone.
Recommended for you

ScotWind – Who's in the running with the results due imminently?