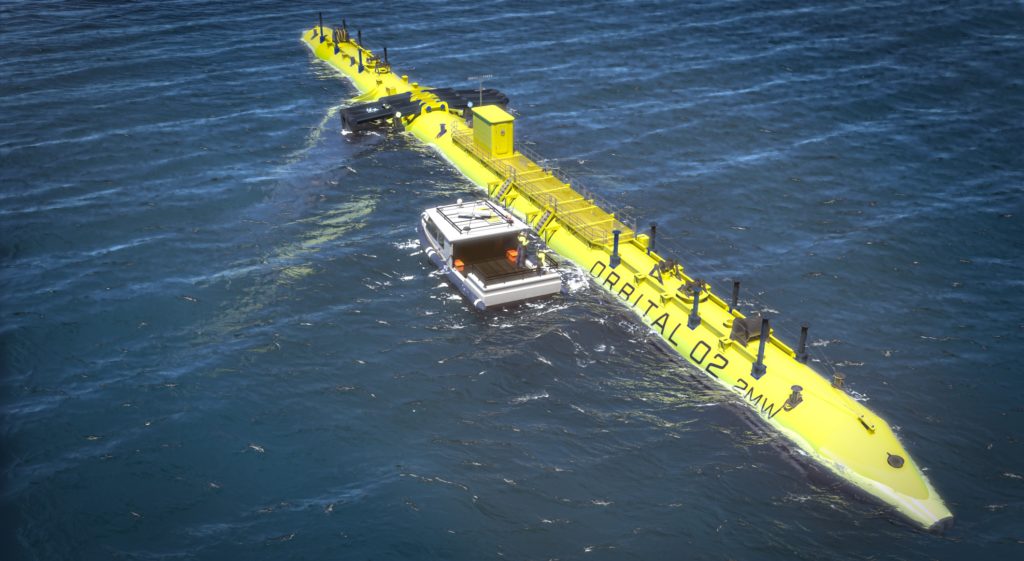 Orkney tidal development firm Orbital Marine Power has today revealed the new design for its commercial production tidal turbine.
The two megawatt (MW) Orbital O2 has a target deployment of 2020.
The new turbine design will be launched at the tidal test base at the European Marine Energy Centre (EMEC) in Orkney.
Andrew Scott, CEO of Orbital Marine Power said "The Orbital O2 is a low cost solution for future commercial projects and builds on the features which made the SR2000 an industry breakthrough.
"This optimised turbine will unlock tidal markets around the world at a competitive price point and provide regulators and investors with a new, predictable renewable energy option."
The Orbital O2 will comprise of a 73m long floating superstructure, supporting two 1 MW turbines at either side for a nameplate power output of 2MW, at a tidal current speed of 2.5 m/s.
With a 65 foot rotor diameter, it will have a 6500sq feet rotor area, the largest ever on a single tidal generating platform to date.
Orbital Marine, formerly Scotrenewables, believe that, when launched in 2020, it will be the most powerful tidal generating platform in the world.
Orbital Marine reported an industry benchmark in August as the SR2000 tidal turbine generated more power in the past year than the entire Scottish marine energy sector managed in the 12 years prior to its launch.
Orbital's proprietary technology has been under engineering development since the company was founded in Orkney in 2002.
Recommended for you

Simec Atlantis Energy sells majority stake in its tidal engineering division