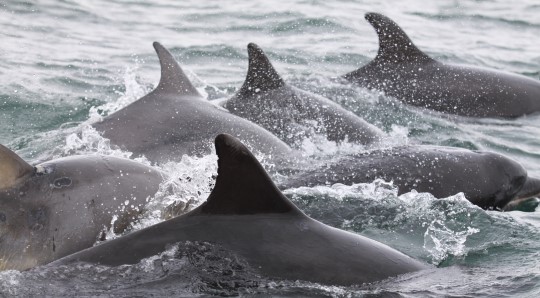 The £2.6million scientific research programme at the Aberdeen Bay Windfarm picked up a prestigious nature award last night.
Vattenfall's programme at the European Offshore Wind Deployment Centre (EOWDC) funds in-depth studies into the environment around the 11-turbine development.
It is supported by groups including Scottish Natural Heritage and Marine Scotland Science.
Last night the programme picked up the Sustainable Development accolade at the RSPB Nature of Scotland Awards.
Chris Jackson, Vattenfall's scientific research and monitoring programme coordinator, said: "At last night's RSPB Nature of Scotland awards, our scientific research programme at the EOWDC was recognised for its excellence, innovation and outstanding achievement in nature conservation.
"This €3mn investment in research will increase understanding of the environmental impact of offshore wind and keeps Scotland at the forefront of offshore wind research and development.
"We believe the results of the research programme will help accelerate the growth of offshore wind by providing greater insight to decision makers and developers when assessing the impacts of offshore wind.
"Research began last year and already the programme has delivered some fascinating,  in-depth scientific research and monitoring at the 11-turbine wind farm. Vattenfall would like to recognise the scientific panel, made up of experts in the field, who advised on the selection of research projects to receive funding.
"They, along with the hard work and dedication of the research groups, have been instrumental in us receiving this recognition."
Recommended for you

PD&MS wins three-year deal to support Vattenfall offshore wind farms