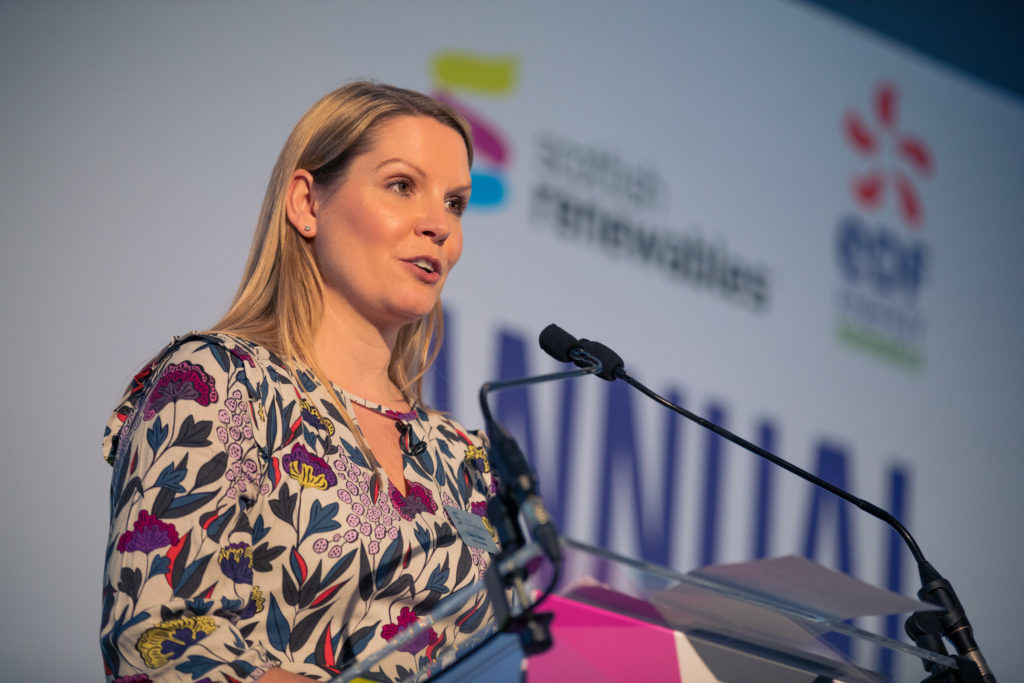 Scotland's renewable energy sector needs to "increase the  number of women" in its ranks, the head of an energy trade body has warned.
Chief executive of Scottish Renewables, Claire Mack, said diversity goals need to be met within the industry, describing them as part of the sector's "political story".
Ms Mack was speaking during the launch of the Offshore Wind Industry Council's prospectus in Aberdeen.
The chief executive added that for renewables to go toe-to-toe with other sectors, it was necessary to be proactive in terms of gender diversity.
She said: "Part of the political story is about diversity targets and reporting. That's become a really big theme throughout the sector deal process and something that we're aware we're being measured against some other sectors.
"People are coming forward with very different targets and modelling frameworks and us being able to stand next to them and tell a really good story is important.
"We've picked a number of measures and one of them is increasing the number of women in the industry."
Ms Mack is one of a number of women holding high office within the Scottish renewable energy industry. But she was voicing a persistent concern within the sector, despite the appointments such as ScottishPower Renewables chief executive Lindsay McQuade last year and Jean Morrison, chairwoman at Aberdeen Renewable Energy Group (AREG) in the north-east.
Ms Mack said: "Gender diversity is important for any business as, aside from being ethically sound, statistics now prove that equal gender diversity ratios mean improved performance, innovation and decision making.
"Our industry is already packed with passionate inventors, creators and driven individuals. It's vital to ensure that we have the best talent available for its future success, and businesses across our membership are working hard to reduce barriers to entry and to ensure that the mix of people making up that talent pool is as diverse as possible."
Last year, trade body RenewableUK highlighted 30 of the top ranked women in the global wind energy industry were from the UK and the Republic of Ireland. It prompted the group to create a database of female renewable energy experts in a bid to increase the number of women speaking at events.
RenewableUK executive director Emma Pinchbeck said: "Promoting diversity is a priority for our sector. We're competing against other industries to secure the best talent from the greatest variety of backgrounds. The wider we cast our net, the more innovative and successful we'll be in the future. Earlier this year, RenewableUK announced that at least 30% of the speakers, panellists and chairs of our industry events will be women.
"We're proud to support the thousands of talented women working in the renewable energy industry and we believe they should have a platform."