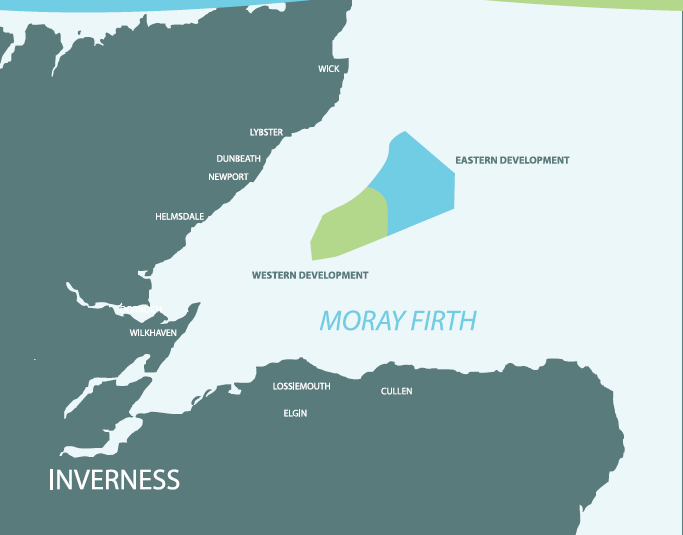 Developers of a huge Moray Firth wind project have announced £2.6 billion of project finance investment alongside a clutch of big deals.
The 950 megawatt (MW) Moray East Offshore Windfarm today confirmed a number of multi-million pound contracts Siemens, Boskalis and MHI Vestas.
Dutch cable firm Boskalis announced a £98 million deal to lay inter-array cabling, while Siemens and turbine firm MHI Vestas both confirmed they had inked "significant multi-million pound deals".
Granted consent in 2014, the windfarm will be built in agreement by developers EDP Renewables, Diamond Generating Europe and Engie.
The Moray Firth wind developers also revealed last month the upcoming wind farm will be able to "meet the needs of 40% of Scotland's households".
Moray East Offshore Windfarm added that it will also generate power at almost two-thirds less than the cost of current UK wind farms.
The development, due to begin construction in 2021, is expected to power more than 950,00 homes.
Moray East board director Dan Finch said: "Moray East marks a major milestone in the progress of the offshore wind industry.  Not only will it deliver plentiful, sustainable, renewable power, it will do so at a highly competitive price – to the economic advantage of both the household and the country.
"Offshore windfarms pay rent for the use of the sea bed – and last week we made our first payment of £6m to The Crown Estate (Scotland) – so the country is already benefiting before we have even produced a single unit of power."
Siemens announced that it would be working with local contractor I&H Brown, who will provide management of the site work provided by the engineering firm.
Mr Finch added: "Throughout the development process we have worked with local and national stakeholders to enable advantage to be taken of the new opportunities brought by offshore wind.
"We are grateful to all those who have engaged with us to take the project to this point and look forward to continuing to work with them through the construction, delivery and operation which will enable those opportunities to be realised."
Energy and Clean Growth Minister Claire Perry, who was briefed on the project at the  London office for business, energy and industrial strategy (BEIS) this afternoon, said: "The UK is a world-leader in the offshore wind sector, creating the right environment to attract inward investment from forward-thinking firms to boost local jobs and growth and create clean, green energy."
Recommended for you

Developers celebrate 'milestone' after final turbine installed at Moray East