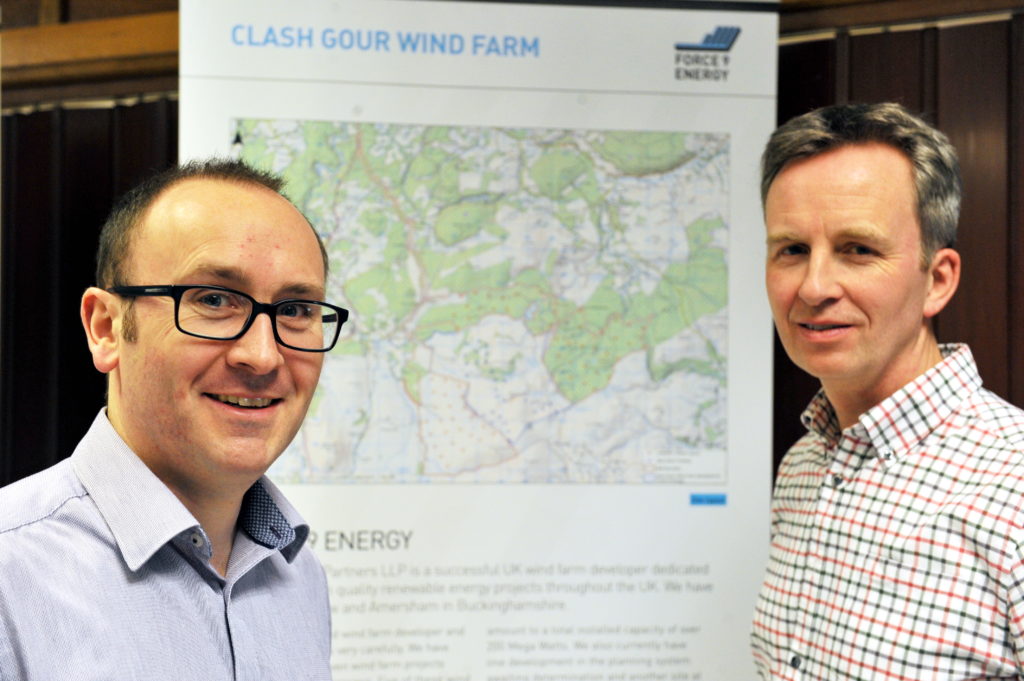 Developers of a controversial Moray windfarm claim the project will create hundreds of local jobs, while adding almost £27 million to the local economy.
Force 9 Energy, project developers of Clash Gour Windfarm, yesterday announced the submission of an application to the Scottish Government for construction of the site.
A subsidiary of EDP Renewables, the onshore windfarm will also create a jobs boom during the three-year construction phase.
Six miles south of Forres, the wind project would be an addition to the operational Berry Burn Windfarm.
Force 9 claim the 48-turbine development would look to hire up to 391 workers during project construction, with between 14 and 19 full time jobs needed once the windfarm is completed.
Andrew Smith, head of planning and development for Force 9 Energy, said the project would offer a community ownership opportunity with the potential to create "long-term income stream to support the creation of employment and new businesses".
He said: "'We are pleased to have submitted the application for Clash Gour Wind Farm. I would like to thank members of the Community Liaison Group (CLG) and all those within the local and wider community who have taken time over the last two years to provide their feedback on the proposals as they have evolved.
"That feedback, together with the significant environmental and technical survey work undertaken over the last five years, has played an important part in shaping and informing the final application design.
"We believe that the design strikes the right balance for the development by minimising and mitigating the environmental effects, whilst at the same time maximising the energy generating potential and economic opportunity for Moray.
"If consented and built, we estimate that the value added to the Moray economy from the project would be £26.7m and up to £91.4m to the Scottish economy. The supply chain requirements will have huge economic potential for a very wide range of local businesses, including accommodation providers, local contractors and suppliers of goods and services.
"The three-year construction period has the potential to secure 391 net person years employment and during operation between 14-19 net full time equivalent jobs in Moray."
Last month, Berry Burn Windfarm was described as "littering" Morayshire with turbines by a local campaign group.
Graham Lang chairman of Scotland Against Spin said: "It is disappointing to see the proposal to extend Berry Burn wind farm becoming an application to be determined by the Scottish Government.
"Morayshire Council will be consulted as part of the process and in view of the cumulative impact with other developments hopefully recommend refusal and for once the Scottish Government will support the local planning authority"
Force 9 responded by adding it wants to ensure that the local community and all those with an interest in the application "have every opportunity to provide comment".
Recommended for you

Local survey found 71% were against giant Banchory wind farm