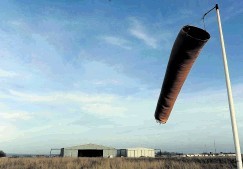 Controversial plans to build wind turbines near a north-east airfield were approved yesterday – despite warnings they could put pilots' lives at risk.
Buchan councillors backed the application for two 150ft devices at Glendaveny on the outskirts of Peterhead.
Developer Jim Mackintosh plans to build them near his Mains of Buthlaw home.
North-east Aviators, the group which leases nearby Longside Airfield, tried to block the scheme, however. In a letter to Aberdeenshire Council planners, the group's vice-chairman, Walter Oswald, said the pilots' main concern was safety.
"Any high obstacle close to the airfield will form a hazard to aircraft," he said.
Mr Oswald said a collision with a mast could result in a fatal accident.
The group was the only objector to the scheme.
It was backed by Aberdeen Airport, the Civil Aviation Authority and the Ministry of Defence, which runs the RAF Buchan surveillance base at Stirlinghill, near Boddam.
The site is less than a mile from the aerodrome, which was previously used by the Royal Air Force and is operated by CHS Scotia.
Council planners advised members of the Buchan area committee to reject the scheme, based on the aviation club's objection.
Central Buchan councillor Peter Chapman said: "Given the only objection is from the airfield, I think we are duty-bound to approve this."
Peterhead South councillor Sam Coull called for the scheme to be thrown out.
"I think these turbines are going to prove an unacceptable risk to the planes using the aerodrome, particularly for visitors who are unfamiliar with the area," he said.
The committee voted 7-4 in favour of the scheme.
Buchan area councillors also gave the go-ahead for a single turbine at Slamptonhill Cottage, near Auchnagatt, despite an objection from the Ministry of Defence.
Officials said the mast could interfere with radar equipment at RAF Buchan.
Developer William Birch argued that another turbine at a neighbouring site was passed with no opposition from the MoD.
The committee unanimously decided to go against planners' recommendations and approve the scheme.