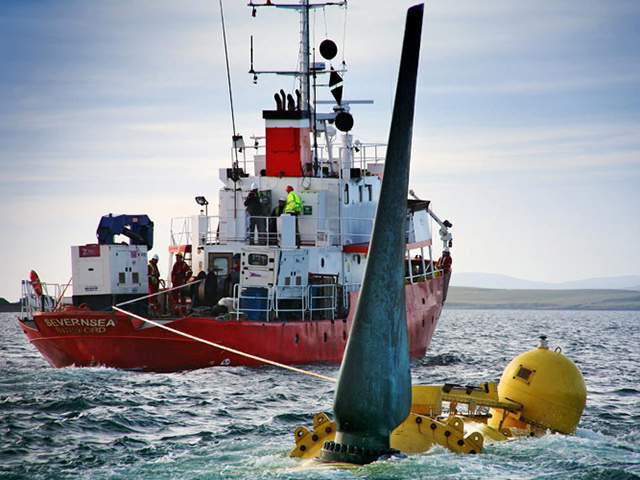 The Scottish Government is set to turn the tide on a previously defunct £10 million marine energy scheme.
The relaunched Saltire Tidal Energy Challenge Fund will look to encourage the commercialisation of wave and tidal projects, many of which are currently based in the Scottish Highlands and Islands.
The original taxpayer funded scheme was launched in 2008, offering up £10m to the first company to produce 100 gigawatt (GW) hours of marine-generated power, but was ultimately scrapped.
The Scottish Government claim the new fund could help to build on the "substantial export potential" of Scottish tidal energy.
Scotland's energy minister, Paul Wheelhouse, added: "We believe that tidal energy can not only play an important role in our own future energy system, but it has substantial export potential.
"The industry has taken momentous steps forward in recent years, and we are proud to have supported that, but the path to commercialisation is taking longer, and proving more difficult, than initially expected.
"This fund provides a timely and appropriate approach for the Scottish Government to support the current needs of the sector and to help ensure Scotland's huge marine energy potential is realised."
The north of Scotland boasts a clutch of world-leading tidal firms such as Orkney-based Orbital Marine Power and Nova Innovation and  Simec Atlantis Energy's Meygen project in the Pentland Firth.
However, the removal of UK Government subsidy in 2016 sparked a clamour for private investment within the sector.
In June, Sanjeev Gupta's GFG Alliance took a multi-million stake in the company behind the Atlantis MeyGen tidal array.
It was closely followed by Orbital Marine clinching its £7m investment target to build the world's most powerful tidal turbine.
Andrew Scott, chief executive of Orbital Marine Power, said: "This achievement has been the result of a lot of hard work and commitment over the years from both Scottish Government and the industry.
"We applaud the Scottish Government for recognising the unique challenges that we now must overcome to commercialise technologies and grow an industry that can deliver further success domestically and globally."
Renewable energy trade body Scottish Renewables senior policy manager Hannah Smith said the new fund would drive innovation and "lower the cost" of marine energy in Scotland.
She added that it is important the Scottish Government "recognises both the need to fund innovation in this promising sector and the commercial realities faced by developers."
Recommended for you

Orbital Marine to help unlock Canadian tidal stream project