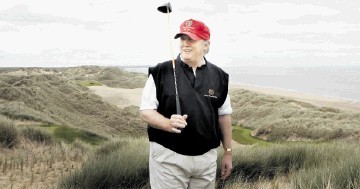 Golf and tourism bosses announced last night that they are backing Donald Trump's fight to block plans for a windfarm off the north-east coast.
The European Offshore Wind Deployment Centre is a £150million joint venture by utility company Vattenfall, engineering firm Technip and Aberdeen Renewable Energy Group.
But the 11 turbines, which would be built between Balmedie and Blackdog in Aberdeenshire, would be visible from the Menie Estate, where Mr Trump has built his championship links.
The American has already told First Minister Alex Salmond the turbines plan is "disastrous and environmentally irresponsible".
He told the Press and Journal that he "will not spend another penny" building the rest of the resort – a luxury £250million hotel, 950 holiday homes and 500 houses – if the project goes ahead.
Other clubs – including Royal Aberdeen – are also objecting and last night they won the support of the Scottish Golf Union, which represents nearly 600 clubs and 250,000 golfers north of the border.
Hamish Grey, the union's chief executive officer, said: "We support the concerns about the potential negative impact this development could have on golf.
"The proposed location of the turbines, so close to the shoreline, will risk undermining golf tourism.
"Golf tourism brings significant income into the Aberdeen region and has real potential for growth which should be taken into consideration."
Speaking on behalf of Aberdeen City and Shire Hotel Association, vice-chairman Bill Burnett said the industry wanted to fight to keep Mr Trump in the north-east.
"Our membership fully agrees that the proposed offshore development of windfarms cannot and should not be allowed to jeopardise the Trump Organisation's plans at Balmedie," he said.
A number of golf tour operators also support the Trump Organisation – Bonnie Wee Golf, Scottish Golf Trails and Golfers Scotland. The windfarm proposals, which are being considered by Marine Scotland, will be discussed by Aberdeenshire Council's infrastructure committee today.
Sarah Malone, executive vice-president of Trump International Golf Links Scotland, welcomed the support last night. She said: "This is not an offshore development as people were led to believe – the location is wrong on many levels and will have a devastating impact on golf and tourism."
David Rodger, spokesman for the EOWDC, dismissed the concerns of hoteliers, saying the growth of the renewables industry would help sustain them.
He added: "We believe that EOWDC is crucial to the economy of the region and is of strategic importance to the development of the offshore wind sector for Scotland, the UK and, indeed, Europe."
Meanwhile, it emerged last night that turbine operators are being paid £1million a month to turn their machines off.
Electricity network operator National Grid paid £14million to windfarm operators across the UK over the past 14 months to compensate them for shutting down on stormy days.
Recommended for you

Aberdeen Offshore Wind Farm reports 2020 profits of £16m