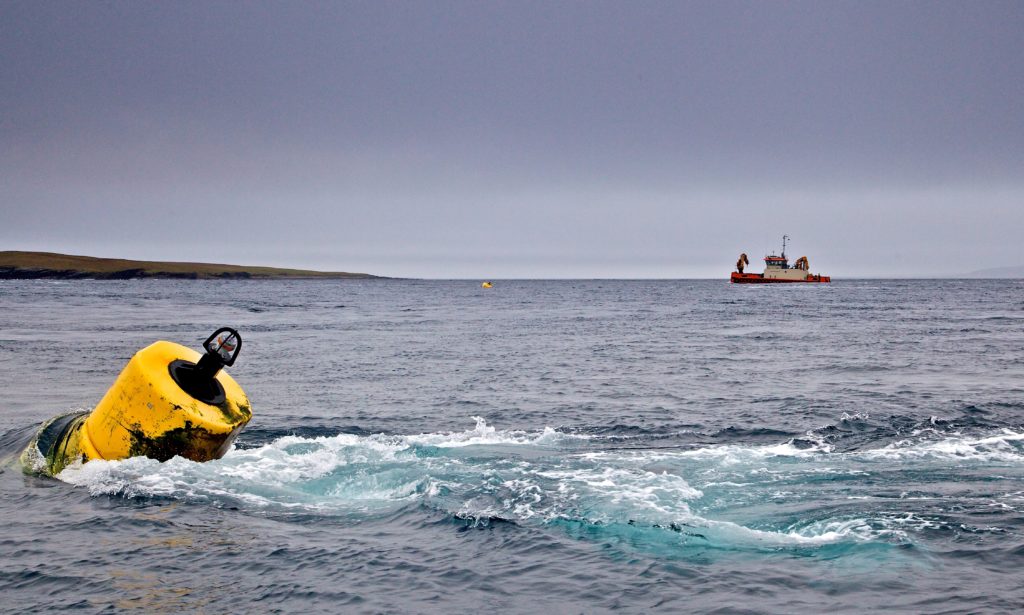 A Spanish tidal energy converter has generated "first energy" at a test site in Orkney, according to the European Marine Energy Centre (EMEC).
The Atir tidal energy converter (TEC) was installed at EMEC's Fall of Warness tidal energy test site in Orkney, Scotland last month by Orkney-based Leask Marine.
The two megawatt (MW) device was developed by Magallanes Renovables at its site in Vigo, Spain, in 2017.
After testing, Atir was towed from Spain to Orkney in September 2018.
EMEC said the device will now undergo a structured programme of testing, which will "demonstrate the operational performance" of the converter, in preparation for "readying it for market".
Neil Kermode, EMEC managing director, said: "This is a tremendous achievement for Magallanes and Ocean_2G partners, and we look forward to witnessing the pioneering two MW ATIR prototype in action, as it takes the tidal sector another leap forward towards commercialisation".
Last month, the Scottish Government launched a previously defunct £10 million marine energy scheme.
The Saltire Tidal Energy Challenge Fund will look to encourage the commercialisation of wave and tidal projects, many of which are currently based in the Scottish Highlands and Islands.
Scottish energy minister Paul Wheelhouse, who was in Orkney this week for the Convention of the Highlands and Islands, said: "The marine energy industry has taken momentous steps forward in recent years and it's great to see this project add to a number of recent success stories where Scotland has been at the forefront of global research and development and tests and demonstrations.
"I'm proud the Scottish Government has been able to support the sector, including the recently announced £10 million Saltire Tidal Energy Challenge Fund to drive towards commercial deployment of tidal energy as well as £10 million committed in the 2019/20 budget from the Wave Energy Scotland programme.
"Access to European funding has been central to the Ocean_2G project and underlines the importance of continued access to such funding for Scottish based initiatives."
Recommended for you

New 30MW tidal energy project set for Orkney waters