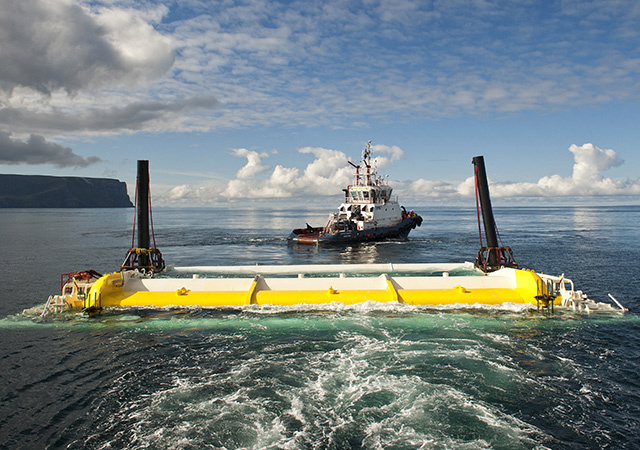 A new report has forecasted that Scotland's marine economy will grow seven-fold to be worth £5billion by 2035 if it can successfully develop key industries.
The document, produced by Highlands and Islands Enterprise (HIE), sets out "enormous potential" for developing wave and tidal energy, aquaculture and marine biotechnology in the region.
An HIE-led consortium was formed in 2016, which also included the University of the Highlands and Islands, Marine Scotland and the European Marine Energy Centre, to audit the value of the marine economy.
However, a number of challenges must also be met in order to reach the potential and failing to do so will have a "negative impact on the economic and social health" of the region.
The research sets out that the region is the world's third largest salmon producer, with the industry in Scotland seeking to double the value of production to £3.6bn by 2030.
For marine biotechnology, "significant applications" are already in place in areas such as energy and food production, with a potential value to the Highlands and Islands of £600m by 2030.
Meanwhile wave and tidal energy could be worth up to £800m to the UK by 2035, with a quarter of Europe's potential tidal stream energy based in Scotland.
It highlights skills gaps, a lack of clear routes to commercialise new technologies, and barriers posed by planning rules, and sets out a framework to address the challenges.
Marine biotechnology has "enormous largely untapped potential" but has suffered from "persistent failure to remove the barriers and challenges to commercialisation".
Wave and tidal energy has been inhibited by "dated infrastructure" for transporting energy to market, with potential options for improvement including a connection to the National Grid.
Meanwhile geographical barriers are hindering small companies in aquaculture, who have to take their innovations overseas meaning Scotland misses out to competitor markets.
HIE states that increasing support for collaboration will raise awareness of the innovative work, leading to joint projects.
In order to meet these objectives, the consortium will be reorganised and work together to help industry plan out how they will be implemented.
Morven Cameron, HIE's head of universities, education and skills, said: "Our lochs, rivers and coastal waters constitute a tremendously valuable asset that already makes a massive contribution to the regional economy and has the potential to achieve even more.
"Sectors as diverse as food and drink, tourism, life sciences and renewable energy are well established, supporting thousands of jobs, many of them in fragile areas of our islands and rural mainland.
"The audit gives us a definitive assessment of the extent to which businesses and communities are using our marine resource, and assesses the scope for further development to drive economic growth across the region.
"It also helps to put the Highlands and Islands on the UK map as a place where science and innovation are playing an increasingly important role and have potential to go further."
Recommended for you

Hydrogen: Nine projects to watch out for in north-east Scotland