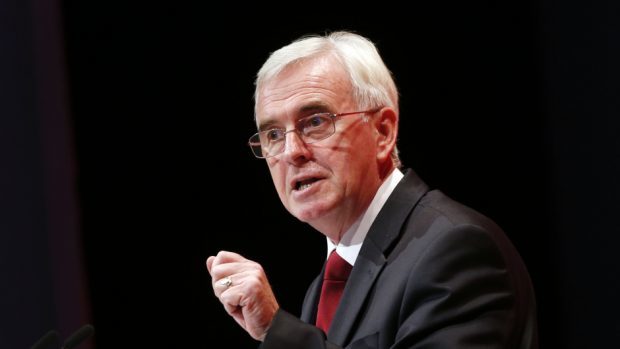 The UK shadow chancellor has pledged that a Labour Government would deliver 50,000 Scottish jobs in the renewable energy sector including thousands in the Western Isles, Shetland and Orkney.
The plans would also see another 1,500 onshore turbines built across the Scottish landscape by 2030, an increase of almost 50% on existing numbers.
In his speech to the Scottish Labour Conference, Mr McDonnell said putting control of the energy network in public hands would "unlock the potential" of the islands.
Mr McDonnell said Scotland's islands had been "stuck in limbo" throughout the renewables revolution because the electricity grid was fragmented and in private hands.
"People have been talking for nearly 20 years about connecting the renewable energy sector on Scottish islands to the grid network, but it still hasn't happened," he said.
The shadow chancellor argued public sector ownership would have resulted in more investment in infrastructure as well as more cash for renewable electricity generation and supply.
Speaking to delegates in Dundee, Mr McDonnell said the financing of energy generation depended on private developers winning contracts from a "meagre pot" of government subsidies.
"Thousands more jobs, huge amounts of wind and wave energy around the Western Isles, Orkney and Shetland could be harnessed if only it was someone's job to think for the long term," Mr McDonnell said.
"Only by putting control of our energy network in the hands of the public with a mandate to cut through the short-sighted decision making of the privateers can we unlock the true potential of Scottish energy."
Mr McDonnell said 60% of Labour's expansion plans for developing onshore wind would be in Scotland, creating 20,000 new jobs north of the border.
Another 15,000 Scottish jobs would come from developing another 42 gigawatts of capacity from offshore wind, the shadow chancellor said.
In addition, he claimed there would be close to 15,000 more jobs in Scotland as a result of Labour's UK wide home retrofitting programme, which would the improvement of insulation and heating systems to make houses more energy efficient.
"That's a total of 50,000 new, well-paid, unionised jobs as a result of our green industrial revolution," Mr McDonnell said.
Mr McDonnell said the North Sea sector would continue its "important role in the mix", but Scottish wind and wave power was essential to prevent the "climate catastrophe we face".