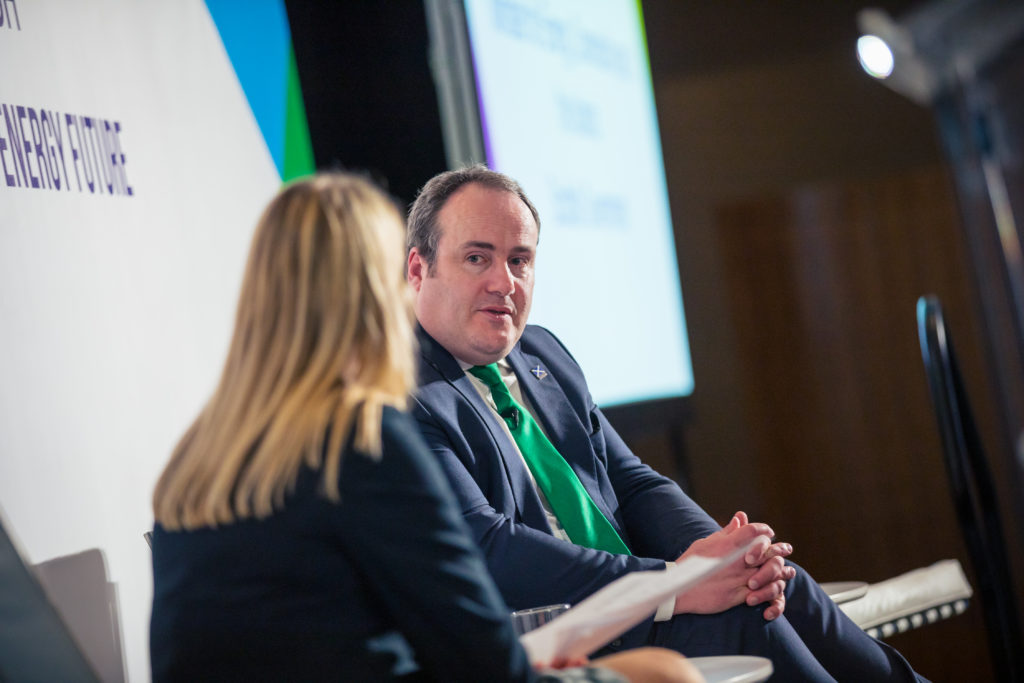 Scotland's energy minister said "patience was wearing thin" with wind developers who take Scottish Government support, only to hand construction contracts to foreign suppliers.
Paul Wheelhouse said yesterday that a proposed government summit on the offshore wind supply chain would look to generate a "greater return" for the Scottish economy.
Mr Wheelhouse was speaking during Scottish Renewables Annual Conference after Burntisland Fabrication (BiFab) was overlooked in favour of two foreign rivals for contracts relating to the Moray East Offshore Wind Farm.
In December, it was announced that Dubai-headquartered Lamprell had won a £160 million deal to construct 45 jackets for the 100-turbine Moray East project, which is being built under a partnership between Spanish-owned EDP Renewables and France's Engie.
A separate deal for a further 55 jackets, was awarded to Belgian company Smulders.
Mr Wheelhouse questioned whether the Contracts for Difference (CfD) scheme for supporting low-carbon electricity generation was having "unintended consequences".
CfDs guarantee energy producers a "strike price" for every megawatt per hour (MWh) they supply to the grid over a period of time.
Mr Wheelhouse said: "We need to understand what's happened from a developer perspective.
"I think the CfD is a good process, broadly, but it is working with unintended consequences in terms of the pressure it puts on developers to go for the cheapest supplier and not necessarily one which generates the greatest return for the treasury.
"I do think there's a bit of a disconnect there; if we're trying to make an argument to the treasury to be more expansive to support difference technologies, it's not very acceptable to say 'give us the money and, by the way, we're going to be commissioning stuff outside the country'.
"I think it's more compelling to say 'give us the support we're asking for and here's what we can do for the economy in return'.
"The summit will try and get to a common understanding of what steps could be taken, whether it's by the UK Government or ourselves, to try and support the supply chain.
"We're not xenophobic, in the sense we don't want to stop outside contractors, but we do want to see a greater return for the UK and Scottish economies."
The Scottish Government bailed out BiFab last year with a £15 million loan.
BiFab, which employed 1,400 workers across three sites, had been working on significant renewables contracts in the outer Moray Firth and a multi-million agreement with the Beatrice Offshore Wind Farm.
Mr Wheelhouse said it was becoming "challenging to justify" Scottish supply chain firms missing out on contracts.
He said: "The supply chain must work hard to seek opportunities, making strategic investments and seeking collaborations when tendering for contracts.
"But I would suggest also that we do expect – and Scotland expects – that there will be a fair, level playing field for Scotland's suppliers to be allowed to compete.
"We recognise our role to ensure companies are competitive, but we also have to recognise the parliament's patience and ministers' patience is wearing a bit thin in regard to some promises that have not been fulfilled.
"I'm sorry to strike a discordant note, but it is proving very challenging to justify why so little is coming back to the Scottish economy."
Recommended for you

SSE touts £1bn economic boom from Seagreen wind construction