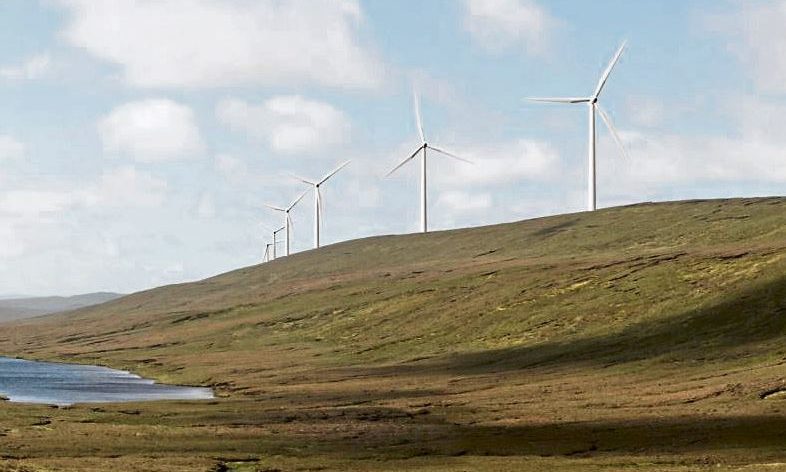 Campaign group Sustainable Shetland has called on local councillors to impose a moratorium on all local wind farm developments and instead explore finding the "best environmentally sustainable" energy solutions in the isles.
Chairman Frank Hay made the call after Shetland Islands Council's planning committee gave the green light to Peel Energy's 12-turbine wind farm near Lerwick earlier this week.
Sustainable Shetland, which objected to the plans, said it was "bitterly disappointed" by the decision.
Councillors voted six to two in favour of approving the plans with a slew of conditions to mitigate its impacts.
Hay said that "Shetland seems to be sleepwalking into a nightmare of oversize turbines dominating the landscape".
Shetland's local development plan states that proposals for renewable energy developments will be supported where it can be demonstrated that there are no "unacceptable impacts" on people, the natural and water environment, landscape, historic environment and the built environment and cultural heritage.
The proposed 103-turbine Viking Energy wind farm has consent from the Scottish Government, as has Peel Energy's planned 17-turbine Beaw Field development in Yell.
A larger wind farm in Yell from Energy Isles, which would feature 29 large turbines, is in the early stages of planning.
The Mossy Hill development came before the council's planning committee as its total capacity would not exceed 50 megawatts, which is the threshold before it has to go in front of government ministers.
All of the proposed wind farms need an interconnector cable laid between Shetland and the Scottish mainland to allow the export of energy, which is dependent on Shetland winning government subsidies in the upcoming contracts for difference (CfD) auction.
Recommended for you

Asia's offshore mega wind farms risk delays from ship shortage