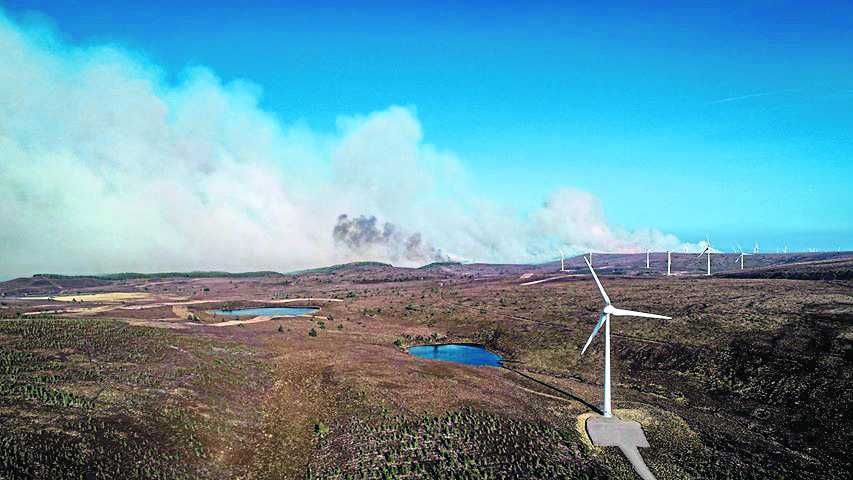 Huge plumes of smoke billowed into the air yesterday as a huge wildfire took hold in Moray.
Flames raced for miles across the Speyside landscape as the blaze threatened to engulf the turbines of Paul's Hill Wind Farm at Knockando.
Where first there was one fire, soon there were four, before they combined into one inferno that tested the best efforts of crews from across the region.
As additional firefighters arrived and staff from an estimated 15 neighbouring estates rushed to offer assistance, ambulance crews stood by in case of injury.
The teams attempted to get ahead of the blaze, which was visible for many miles around, but struggled as flames moved swiftly through heather and gorse dried by days of fine weather.
Despite their best efforts, it was soon in the midst of the wind farm, which only last week narrowly avoided devastation at the hands of another wildfire.
The land surrounding Pauls Hill is part of the Ballindalloch Highland Estate.
One estate worker from Cabrach and Glenfiddich described how staff from "about 15 different neighbouring estates, some from as far away as Inverness" had arrived to help.
He said: "It's not going to be put out any time soon but we are here to help to try to reduce how far it spreads."
Firefighters said they would continue to battle the wildfire long into the night.
Moray MSP Richard Lochhead paid tribute to the efforts of crews "and others who find themselves called out to the increasing number of wildfires in Moray".
"The unusually hot weather means there is an increased risk of such fires, which can be devastating if not brought under control," he said.
"The priority has to be protecting life and property but it is a concern that significant wildfires appear to be occurring more often."
Recommended for you

Ministers approve plans for 48-turbine Clash Gour wind farm near Forres