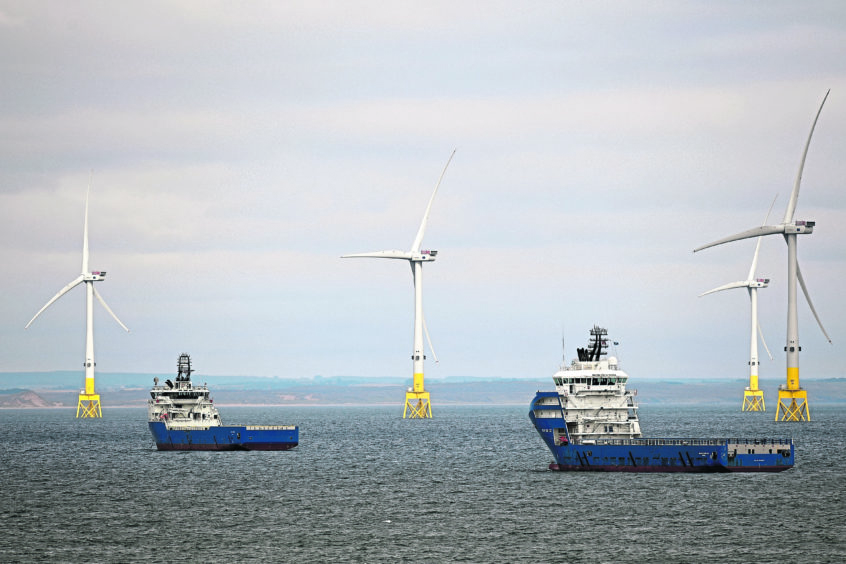 Thousands of offshore wind jobs could be coming to the north of Scotland, according to those involved in a new taskforce.
The group, made up of local councils, supply chain companies and project developers, will look to create more than 3,000 jobs over 10 years as three of the world's biggest wind projects begin to take shape in the Moray Firth.
DeepWind, the North of Scotland Offshore Wind Cluster, said last night it wanted to see "at least half" of the 6,000 Scottish jobs predicted as part of the newly-launched Offshore Wind Sector Deal come to the region.
The 84-turbine Beatrice offshore wind farm has most recently brought jobs to Wick Harbour, while the 100-turbine Moray East offshore wind project has signed a multi-million-pound contract to support work at Fraserburgh harbour.
The man leading the project, Paul O'Brien, also an energy development manager for Highlands and Islands Enterprise (HIE), added that DeepWind "would be out to get as much as possible" from an upcoming £250 million UK funding pot.
The offshore wind cluster will also look to bring in local firms who are not currently in the offshore or floating wind sector.
He said: "I would like to see at least half the jobs (in Scotland) come to our area.
"On paper, Forth and Tay have also got some big projects to come but our area actually has a lot of the companies that are already working in the energy sector."
The new DeepWind steering group includes Aberdeen, Moray, Highland and Aberdeenshire Council, as well as Highlands and Islands Enterprise and Scottish Enterprise.
A number of north firms are core members such as Global Energy Group, Subsea 7, CS Wind and Burntisland Fabrication (BiFab).
Offshore wind developers SSE, Equinor, Vattenfall, EDP Renewables, Engie and Cobra Wind are also involved.
Mr O'Brien added: "There are a number of industries we're looking to attract companies from, such as the oil and gas sector, aerospace, nuclear, defence and we'll be focusing heavily on the subsea sector."
Money for the project will come from a national pot of £250m, pledged by offshore wind developers.
However, the Royal Society for the Protection of Birds (RSPB) last night argued that many of the projects still to be constructed in the north-east are too close to shore and had not taken on environmental concerns.
Charles Nathan, senior conservation planner for RSPB Scotland, said many of the sites in the north-east posed a "danger" to international sea birds.
Danielle Lane, Vattenfall's UK country manager, added: "Our experience in offshore wind around the UK tells us that cooperation with the rest of the industry and public bodies like local authorities and development agencies can make a big difference to developing regional and national supply chains, developing skills and creating jobs.
"As the offshore wind sector picks up momentum in Scotland, across the UK and internationally, we would expect businesses and workers in the north east of Scotland to benefit, especially given the skills and experience gained from the North Sea oil and gas sector.
"To maximise the opportunities from this massive investment and the innovation it creates, cooperation is needed. Which is why we wholeheartedly supported the Offshore Wind Sector Deal and why we are keen to support the work of DeepWind, the newly formed North of Scotland offshore wind cluster."
Recommended for you

AREG Energy Futures conference to highlight size of prize for north-east