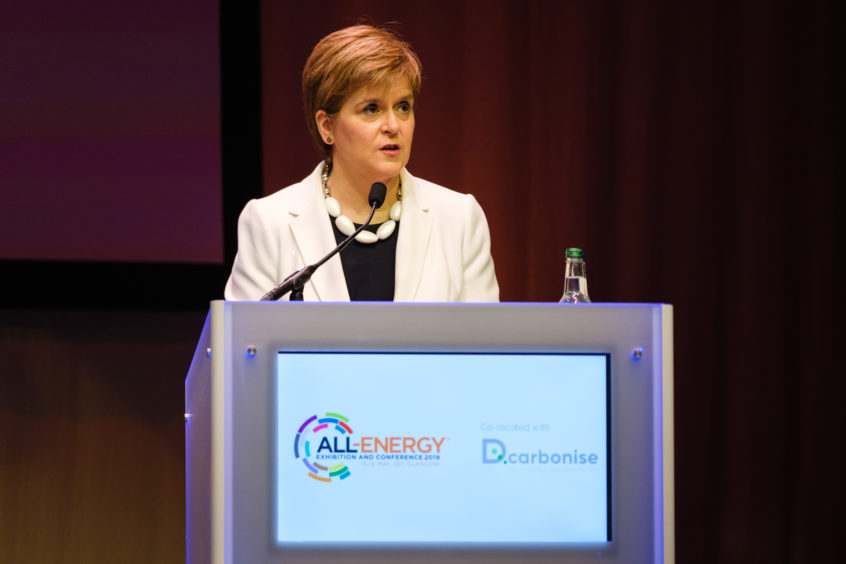 First Minister Nicola Sturgeon has vowed to continue the growth of onshore wind power – while ruling out a public veto for such projects.
Speaking at the All Energy conference in Glasgow yesterday, Ms Sturgeon described the Conservative public veto policy in England as "short-sighted" and said the situation should not be viewed as "developers versus communities".
But anti-wind farm campaigner Lyndsey Ward said her position was "unforgivable" and accused the FM of "bulldozing local democracy".
The first minister was at the conference to launch the Scottish Government's energy consumer action plan, which aims to empower consumers while meeting net zero emissions by 2045. She said: "We must continue to grow onshore wind and I think our position on that has been vindicated all along.
"The Tory position that is now influencing the UK Government position is short-sighted. It's driven by the wrong considerations and playing to the concerns about aesthetics of wind farms rather than how we provide clean affordable energy.
"We believe in the case for onshore wind and we'll continue to make it."
Keith Anderson, chief executive of Scottish Power, backed Ms Sturgeon's stance and said she was "absolutely correct". He said: "We have all the technology today and the plans for the zero net target could be started today. What we can't do is sit and wait for some new invention."
Asked about the potential for the introduction of a public veto on onshore wind projects, Ms Sturgeon said: "I think we've got a good record of this in Scotland in developers actually involving communities so it doesn't come down to public veto.
"Our planning system fully involves communities. We've got a really good record in community benefit from onshore wind developments and we shouldn't see this as developers versus communities, we should see it as everybody coming together to do what's right for the country as a whole."
But Beauly-based anti-wind campaigner Ms Ward slammed the first minster's approach. She said: "Nicola Sturgeon never fails to amaze with her 'wrongheaded' approach to rural communities threatened with onshore wind development.
"She actively encourages 200-metre monstrosities in our world-envied landscapes and is apparently unable to understand the destructive reality of what she advocates."
Graham Lang, of Scotland Against Spin, accused the "urban-based SNP" of overlooking the impact of the turbines on the remote northern landscape. He said: "With the carrot of community benefit and the stick of Scottish Government planning policy there is an inevitable threat of wind farm mayhem in wrecking Scotland's finest landscapes, and of course an urban-based party led by the first minister couldn't care less.
"Local authorities turn down applications on planning grounds only for them to be overturned by the Scottish ministers. Most of the good sites with grid access have been taken, and without a business case developers will not walk the walk no matter what Nicola Sturgeon says, and the gold rush to the hills is over."
Recommended for you

Sturgeon: those calling energy strategy a 'betrayal' haven't read it properly