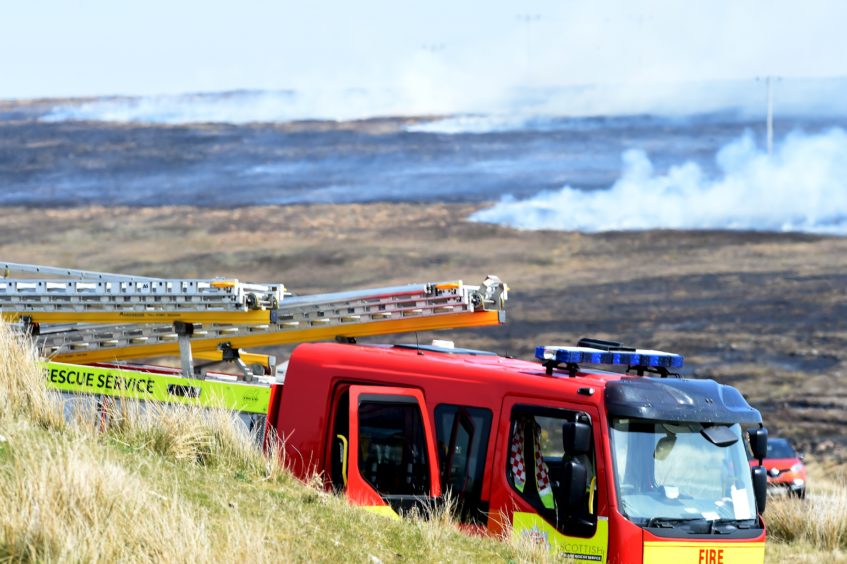 Engineers from a Highland Wind farm have been evacuated to safety as firefighters continue to battle a raging wildfire in Sutherland.
The blaze has reduced in area from almost 5,000 acres on Tuesday to more like 1,000 acres yesterday, but has got closer to the Strathy North turbines.
Six crews were stationed at various sections between Melvich and Strathy, near Thurso, using knapsacks and beaters to extinguish the flames.
As concerns for Strathy North continued to grow, firefighters from Wick were stationed in the grounds – home to 33 wind turbines – as a team from Thurso remained stationed at the access road.
An SSE spokesman confirmed several members of staff had been evacuated from the site as a matter of safety; despite repairs ongoing to several damaged cables.
He said: "The wildfires in the Sutherland area caused a fault in one of Strathy North's export cables over the weekend and we are working with Scottish and Southern Electricity Networks to resolve the issue as safely and as quickly as possible.
"In response to the fires we have had to evacuate the Strathy North and will only return when it has been assessed it is safe."
Meanwhile, staff from RSPB Scotland were actively engaging with fire crews yesterday in a bid to protect their Forsinard nature reserve as the blaze reached the western border.
A spokesman for RSPB Scotland said: "It is our understanding that they were started as a consequence of muirburning.
"The fire is now at the Forsinard Western boundary and our staff and volunteers are assisting fire crews.
"We have engaged a helicopter to 'water bomb' the fire. We are also ploughing a fire break to protect our forestry plantations."
Multiple crews from across the north were dispatched to the scene for a third day in a frantic effort to contain the blaze, which first broke out around 10pm on Sunday.
A crew from Durness continued to tackle the fire in the north sector as personnel from Lairg remained at Strathy Forest in the south.
A second helicopter was also drafted in to provide relief to the existing aircraft which had been in operation for more than 30 hours.
Station Manager Alex McKinley said crews were likely to "remain on scene for some time yet".
He added: "We would like to remind the public to stay away from this area this time, and remind the local community to ensure windows are closed if smoke travels in the direction of their homes."
Recommended for you

'Too early to say' impact of Saipem 7000 failure on Scotland's largest wind farm