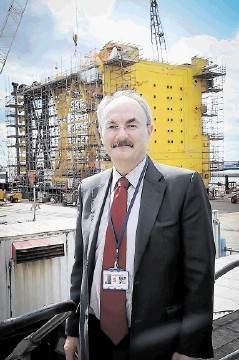 AT ITS peak, SLP Engineering had 1,500 people working at its Lowestoft yard.
But this time last year, after some 12 months in administration, sparked by issues over an overseas contract, it was facing total collapse.
It had not been able to tender for new work and its last project, an accommodation module for BP's Valhall installation, had ended.
However, life is starting to return. The "new SLP" was launched in autumn last year, after the assets and intellectual property of SLP Engineering were bought off administrators PricewaterhouseCoopers by Belgian firm Smulders.
After a period of being mostly reliant on its parent for work, currently a substation jacket for the Belgian Thornton Bank windfarm, it is to start standing on its own after winning an engineering, procurement and construction (EPC) contract with an unnamed North Sea major for a minimal facilities gas platform.
Project design has started, construction is due to start in September, and it is likely to leave the yard in June next year.
SLP is also hopeful of winning work to construct accommodation modules and platforms it has already prequalified and tendered for.
Winning that first project, in the firm's core expertise, is a milestone for managing director Paul Thomson.
"It is a very good vote of confidence from the client but also from the industry," he said.
"We have gone from a point of lost opportunity to having the opportunity to put something in the shop window. It's good to be back."
SLP's specialism, Mr Thomson said, is creating a formula for platforms, which could then be tailored for specific projects, instead of designing and building each from scratch.
"The problem in the oil and gas industry was that it is mostly dictated by process, so there is little opportunity to mass produce," he said.
"We saw a market in the mid-90s to develop a minimal facilities design and it has been successful ever since.
"That is what we are continuing to sell.
"And there is still a lot of work out there."
SLP has designed 18 minimal facilities platforms for clients including ConocoPhillips, Tullow, ATP and Venture, (now Centrica) and built 17 – it had designed Centrica's Ensign platform but due to the administration and project schedule it is being built in Hartlepool.
At the peak of the Valhall project the yard had some 1,500 staff. Until it started gaining work through Smulders the yard was just in "care and maintenance" with a skeleton staff.
With work well under way on the Thornton Bank project, there are now 80 staff on the yard plus 50 engineers and administration workers.
Mr Thomson, who joined the firm when it was owned by Brazilian group Oderbrecht, hopes to build numbers up to 500, focusing on EPIC contracts in the local North Sea market and then potentially looking overseas.
"Our objective is to get the yard back up to capacity," he said.
Offshore wind work will fill in the gaps of the peaks and troughs of the oil and gas business through Smulders.
This will be for one-offs, like the Thornton Bank substation jacket, while Smulders works on mass-producing multiples of the turbines' monopile or jacket structures in Belgium, creating a neat fit for the two companies.
Smulders, which has construction yards in Belgium, Denmark and now Lowestoft through SLP, entered the onshore wind turbine market about 20 years ago, manufacturing the steel towers.
It moved into offshore monopiles about 10 years ago. Its other divisions are machine construction, industrial construction and high-grade constructions.
o SLP Engineering, SLP Energy and SLP Precast were the companies within the SLP Group that went into administration. The SLP Group now lives on under a new name, OGN (Offshore Group Newcastle), based in Wallsend, Newcastle, and run by what were SLP's management, including some who had been part of a management buyout from Oderbrecht in 1999. OGN and SLP Engineering are separate companies and are in effect competitors.
o See next month's Energy for more on OGN and activity in the east of England and southern North Sea.