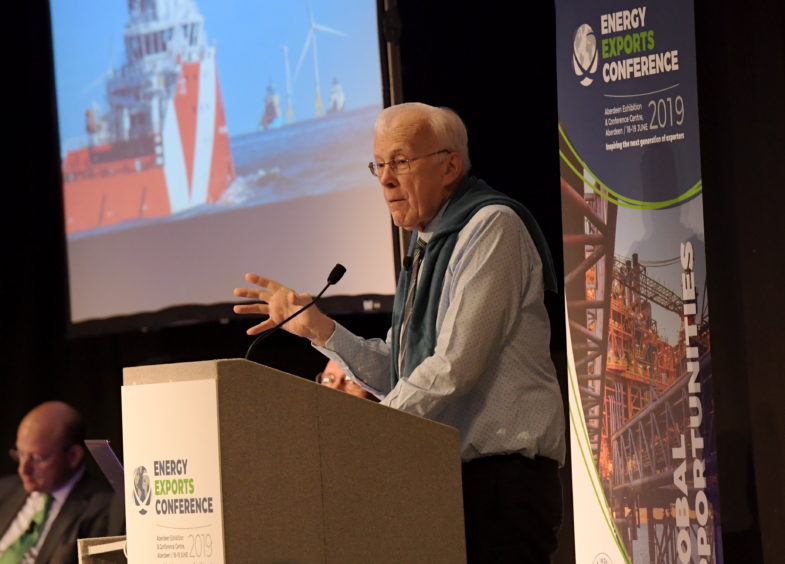 Oil and gas doyen Sir Ian Wood said yesterday a "major energy transition park" could help Aberdeen capitalise on the switch to a low carbon economy.
Sir Ian said Aberdeen was a "city in transition", with great oil and gas prospects and capability now being applied to wider energy sources.
The chairman of economic development body Opportunity North East believes carbon capture and storage (CCS) will play a big role if the UK is to reach its target of net zero emissions by 2050.
Sir Ian, who transformed Aberdeen company Wood into a global energy services giant, also reckons hydrogen has a "lot of potential".
The entrepreneur said offshore wind would become a much more important part of the UK's energy production mix, though oil and gas would still have a part to play for a long time.
Speaking at the Energy Exports Conference in Aberdeen, Sir Ian said: "Aberdeen must become a significant onshore base for offshore wind.
"Our new south harbour gives us exactly that opportunity, with potential for a major energy transition park somewhere in the south of city."
He later clarified that a "park" for new energy sources was just a concept at this stage and he did not have a specific location in mind.
But there is an "opportunity of a significant development", Sir Ian said, adding: "We do need space to change from an oil and gas capital to an energy capital."
Taking advantage of the opportunity to develop new energy sources in the UK would lead to international opportunities down the road, he said.
Oil and Gas Authority chief executive Andy Samuel said the more he learned about hydrogen technology, the more opportunities he could see for oil companies to support its development.
Mr Samuel agreed CCS would be part of the energy transition, and said getting involved in low carbon technology would convince people who are concerned about climate change that the oil and gas industry is responsible and has solutions which can make a difference.
Recommended for you

Ardersier hires ex-Orsted exec to create 'energy transition hub' in Highlands