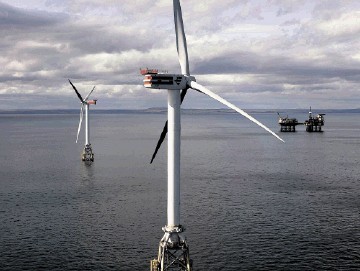 SCOTTISH and Southern Energy (SSE) is expected to make an announcement today on its future commitment to new nuclear energy.
The Perth-based utility is believed to be in talks to pull out of a consortium planning to build a nuclear plant in the UK so it can focus on renewable-energy projects.
SSE could sell its 25% stake in the NuGen group to partners Iberdrola – the Spanish company behind Scottish Power – and GDF Suez if it decides to leave.
NuGen has plans for a plant near Sellafield in Cumbria, with up to 3.6 gigawatts capacity, and aims to start construction in 2014.
It is understood that if SSE quits NuGen, Iberdrola and GDF Suez, which each have a 37.5% interest, will split the stake being disposed of three ways. An SSE spokesman said yesterday: "A review of our involvement in new nuclear is currently under way. We expect to make an announcement shortly."
The company already has a large portfolio of renewable-energy projects across the UK either already producing power or planned for the coming years.
SSE has generating capacity of 11,300 megawatts (MW) of which more than 2,000MW comes from its hydro and onshore wind developments.
It is one of the companies behind the proposed Beatrice windfarm eight miles offshore Caithness, which would have 184 turbines and 920MW capacity.
SSE, in partnership with SeaEnergy Renewables, has already established a two-turbine demonstration project in the Moray Firth some 20 miles east of Helmsdale.
Approval is being sought by SSE for 110 turbines at two separate developments at Strathy, near Thurso.
SSE chief executive Ian Marchant has said previously that the firm wanted to have "more than our fair share of renewables and less than our fair share of nuclear".
WWF Scotland said it was pleased SSE may concentrate on green-energy developments. Dan Barlow, the environmental group's head of policy, said: "We simply don't need nuclear power to keep the lights on and so we would warmly welcome it if SSE were to abandon its involvement in this expensive and dangerous technology.
"Pursuing a 100% renewable future is the correct path to take and we would encourage the companies left in the consortium, including Scottish Power's owner Iberdrola, to also consider abandoning their nuclear ambitions."