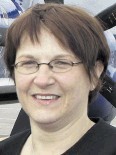 OFFSHORE Europe (OE) 2011 broke records in the air, it emerged yesterday.
Aberdeen Airport bosses said 67,407 people passed through the terminal during the week of the energy show, more than for any previous OE.
The final day of the biennial event was the airport's busiest for departures, with some 6,623 people processed through security.
Airport operations director Carol Benzie said: "We were aware that the week went incredibly well, with months of planning going into the operation.
"The team here pulled out all the stops to deliver a first-class result and it showed.
"It was a great team effort, with people across the airport campus and from many employers helping each other to ensure we had no operational issues."
Ms Benzie said there were no delays during the week, which also generated great feedback and an increase in spending at the airport's retail operations. She added: "The result was a fantastic performance that really showed the airport and the city in a great light."
The number of people using Aberdeen Airport was 2,000 more than two years ago and in excess of 11,000 above the total it would expect in a typical week during September.