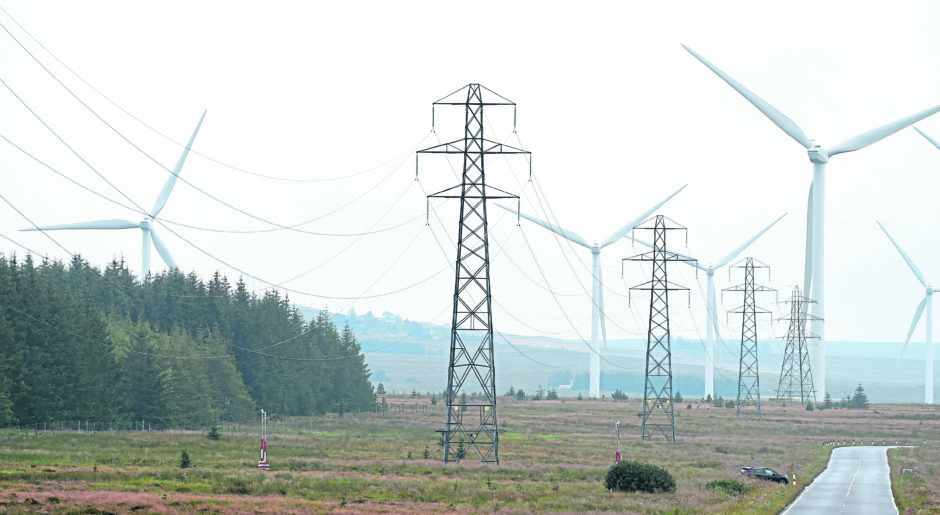 A Caithness community is to consult locals on how best to use the money brought in by wind farms.
On land three miles north of Lybster, German energy giant E.On Climate and Renewables will soon learn if Scottish ministers will approve its Golticlay windfarm, comprising 19 430ft turbines.
It's near the operational Camster wind farm (25 400ft turbines) and the proposed Camster 2 (a further 14 400ft turbines).
While some in the community dread the prospect of more turbines, others take a more pragmatic approach.
Lyth and Lybster Community Development Company (LLCDC) bought 40ha of land to develop two small turbines as community income, then E.On approached them.
LLCDC manager Tom Briscoe said: "They said they were looking at a much bigger wind farm at Golticlay so we partnered up.
"The arrangement is that they would finance it all and we would get the community benefit; a percentage of the profits would come into the village that we would then use for community activities."
Mr Briscoe said the community benefit could be up to £200,000 annually for 25 years.
He said: "People come to us saying there are too many windfarms and the landscape of Caithness has certainly been challenged as a result of having too many. We totally understand that.
"But we also get people who are pretty anti-wind farm but also very pro-community. They object in principle, aesthetically, to these turbines, but they also appreciate the community benefit from them is important as well."
Using money from Camster, LLCDC is about to embark on a detailed consultation on how to develop a co-ordinated approach to all the money coming from wind farms.
Mr Briscoe said: "When these wind farms come and go, what we're looking at with the community council is the legacy that they leave, and co-ordinating all the money that comes in from all the wind farms, from Camster, Burn of Whilk, Beatrice offshore and potentially Golticlay and Camster 2.
"Potentially over the next 20 years we're talking millions. We need to co-ordinate that to work for the benefit of people in Lybster.
"A lot of people feel that if we have to have them we might as well get something out of it."
Trudy Morris, Caithness Chamber of Commerce chief executive said: "We understand the subject of onshore wind is an emotive one, and one where many people on both sides have strong opinions.
"We believe Scotland needs a mixed energy policy to ensure sustainable future development, and onshore wind has a part to play in that; particularly if the Scottish Government's ambitious carbon reduction targets are to be met.
"It is extremely important that onshore wind developments are planned and developed in a sensitive and responsible way, taking into account the views of the communities affected, and each development should be assessed carefully on its own merits.
"Community benefit from windfarms can give a real boost to remote and rural communities in Scotland, and it is important that these funds are set up and managed in a way that maximises the benefit available.
"The chamber administers the Baillie Wind Farm Community Benefit Fund and manages the Caithness Business Fund, both of which receive annual contributions from the Baillie Wind Farm (Stakraft). In both cases, the developer wanted to bring additional benefits over and above the statutory minimum.
"The Caithness Business Fund supports business startups, growth businesses, and apprenticeships across the north Highlands.
"In addition to directly supporting projects in its immediate area the Baillie Wind Farm Community Benefit Fund also provides monies to educational and sporting groups across the entire region."
Risk of over-development
There are currently 227 operational wind turbines in the Caithness area.
If all the proposals currently in the pipeline win approval there will
be close to 500, to say nothing of applications still to come.
Now it is emerging that developers are applying to extend their 25-year contracts to 40 years, and to "re-power" turbines, which could see them reach a far higher 650ft.
Independent councillor for Thurso and north-west Caithness Matthew Reiss says he is depressed and increasingly angry about the situation.
He said: "At the moment there's a buffer zone
for turbines of just over a mile from residential
areas.
"Now we're starting to see applications for them to be renewed and re-powered with much bigger turbines, but there's no suggestion of the buffer zone being increased to give people more protection.
"The first minister has quite clearly said there's to be no veto for the public on renewable energy projects, but I find this profoundly undemocratic.
"I'm not a political councillor but I've come to the conclusion recently as the decisions have become more and more unfair, that it's my responsibility to speak out."
Regarding Golticlay, Mr Reiss said wildcats had been spotted in the area, but even this fact had seemed to count for nothing.
He said: "They are arguably the most iconic species in Scotland,
and on the brink of extinction.
"I personally went to SNH HQ in Inverness and pleaded for some money to be given to do a survey of Golticlay site.
"But the exact phrase I got back was that Caithness was not a priority area for wildcats and therefore nothing is going to be done."
Mr Reiss is also concerned about the negative impact on tourism from wind farm over-development.
He said: "There is a genuine risk that Caithness will get a reputation as being an area that did once have a reputation for being intrinsically beautiful and different from anywhere else in the Highlands, but it's been lost.
"Caithness people are very reserved and reluctant to speak out, but one very elderly gentleman said to me: 'Please Mr Reiss, can you do anything you can to stop that windfarm?
"'It's my village and its beautiful and I don't want it spoiled'."