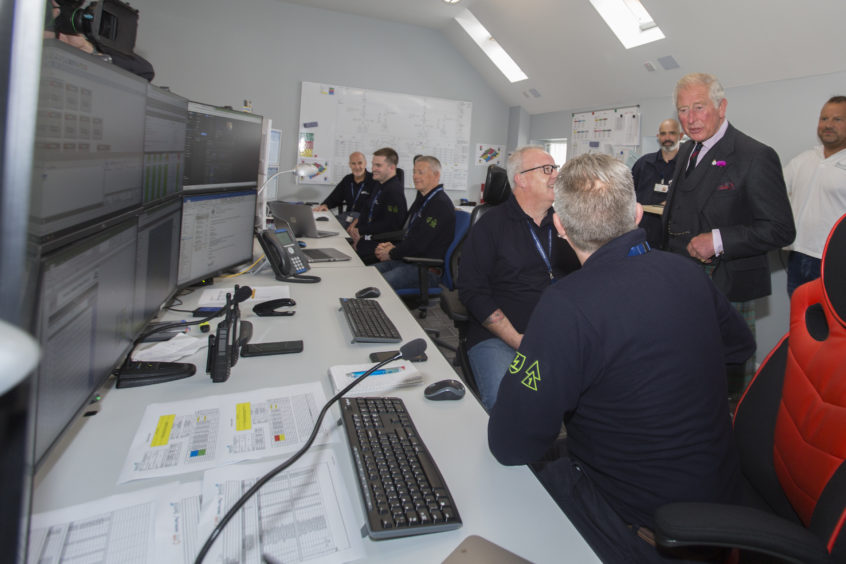 HRH the Duke of Rothesay opened Scotland's largest offshore wind farm in Wick yesterday, calling it an "engineering feat".
The Beatrice Offshore Wind Farm, situated near a former oil field in the Moray Firth, is an 84-turbine development able to power up to 450,000 homes in the UK.
Prince Charles toured the Beatrice project's operations maintenance base before unveiling a plaque commemorating the 588 megawatts (MW) project.
The wind farm will generate £2.4billion to the UK economy over its lifespan, with £1bn expected to come to Scotland.
The project is a joint venture partnership between SSE Renewables (40%), Copenhagen Infrastructure Partners (35%) and Red Rock Power Limited (25%) with development, construction and now operation led by SSE Renewables.
Located eight miles off the Caithness coast, the wind farm is also currently the fourth largest offshore wind farm in the world.
Totalling £2.6 billion, three year project came in £100 million under budget.
Scottish energy minister Paul Wheelhouse called the opening of the wind farm "hugely important" for the country and the far north region.
He said: "We have about 11 gigawatts (GW) already developed in Scotland, but we need at least 17 GW by 2030.
"This project is a big step forward but we need this to be the first of many."
Prince Charles is understood to have asked project bosses about the marine conservation around the wind project and the local jobs created around Wick Harbour.
Willie Watt, a former Wick Harbour chairman and local resident, called the creation of 370 local jobs for Wick and 90 for the harbour itself "the best news in 100 years".
He added: "This is a great day after years of difficulty for the town. The wind farm has brought a new industry, new jobs and apprenticeship for young people to the area."
Guy Madgwick, chief executive of Red Rock Power, said he hoped the Beatrice project would have a long lasting "legacy" in the local community and local supply chain in the north-east of Scotland.
But climate think tank, the Global Warming Policy Foundation, warned that consumers were facing a "doubling of electricity" costs as a result of the Beatrice project and the upcoming Moray East Offshore Wind Farm.
Professor Gordon Hughes from Edinburgh University said: "A number of large wind farms have contracts to supply power at extraordinary low prices.
"But the cost and performance data suggests that they will be unable to cover their costs."
Industry trade body RenewableUK's head of external affairs, Luke Clark, responded by saying that offshore wind was "the lowest cost options for power in the UK" and that the "industry has a record of delivering infrastructure on time and on budget that is second to none."
Claire Mack, chief executive of trade body Scottish Renewables, described the project as "quite simply the most exciting renewable energy development in the UK right now".
She added: "The scale of the Beatrice project is truly staggering: almost twice the investment of the Queensferry Crossing; the fourth largest offshore wind farm in the world, and all happening in the North East of Scotland."
Recommended for you

Iberdrola opens 'world's largest' green hydrogen plant in Spain