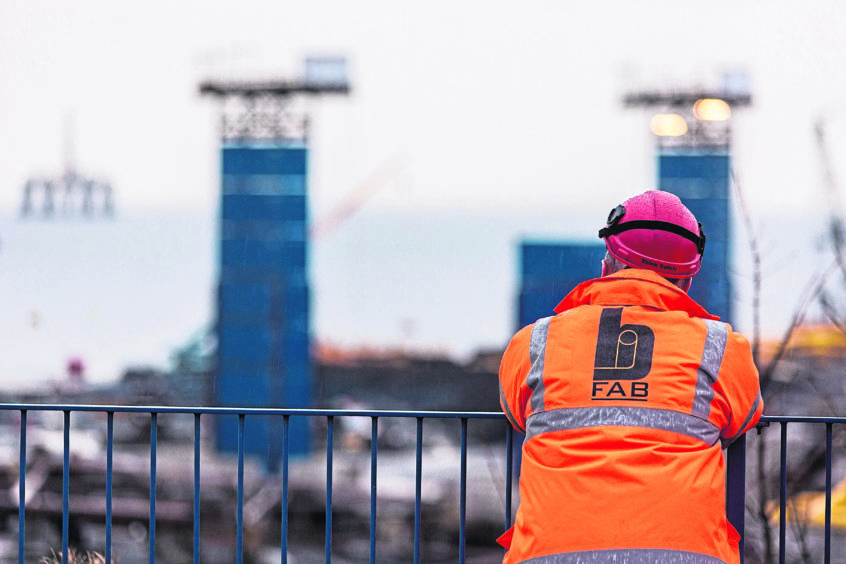 The value of the Scottish Government's multi-million stake in troubled manufacturing firm Burntisland Fabrication (BiFaB) has diminished, according to new figures.
Audit Scotland provided the new valuation to the BBC as part of its 2018/19 audit of the Scottish Government's consolidated accounts, which sees the value of its BiFab stake knocked down from £19 million to £6m.
The firm has three fabrication yards in Scotland, with one in Arnish on the Isle of Lewis and two in Fife.
A 15-20% stake in BiFab was taken into public hands in 2017.
It was saved from going into administration by a Scottish Government loan of £25 million which ensured it could meet commercial commitments and contract deadlines.
The Fife-based engineering firm had been working on significant renewables contracts in the outer Moray Firth and a multi-million agreement with the Beatrice Offshore Wind Farm.
BiFab, which employed 1,400 workers across three sites in 2017, has struggled to win work on big Scottish offshore wind projects, forcing it to mothball all of its yards.
But a new contract for BiFab at Arnish for the Moray East Offshore Wind Farm created 100 jobs, while it's understood it has also won a contract to supply eight jackets at the 53-turbine Neart Na Gaoithe (NnG) wind farm in the Firth of Forth.
It is hoped the deal will revive BiFab's fortunes in Scotland and create 200 jobs at the firm's Methil yard in Fife.
A Scottish Government spokesman said: "The Scottish Government provided a loan facility to BiFab to allow completion of the works on the Beatrice contracts.
"It was agreed that these funds would be converted to a minority equity stake in BiFab, not exceeding 38%."
A deal for the £2 billion NnG project was viewed as a lifeline for BiFab by unions, politicians and staff.
BiFab's Canadian owner DF Barnes said discussions were "heading in the right direction".
But the new valuation of the Scottish Government's stake will come as another blow to the firm is it tries to wind further work in offshore renewables and oil and gas.
An Audit Scotland spokesman said: "The valuation of loans to private sector companies will be considered as part of our 2018/19 audit of the Scottish Government's consolidated accounts which is currently underway."