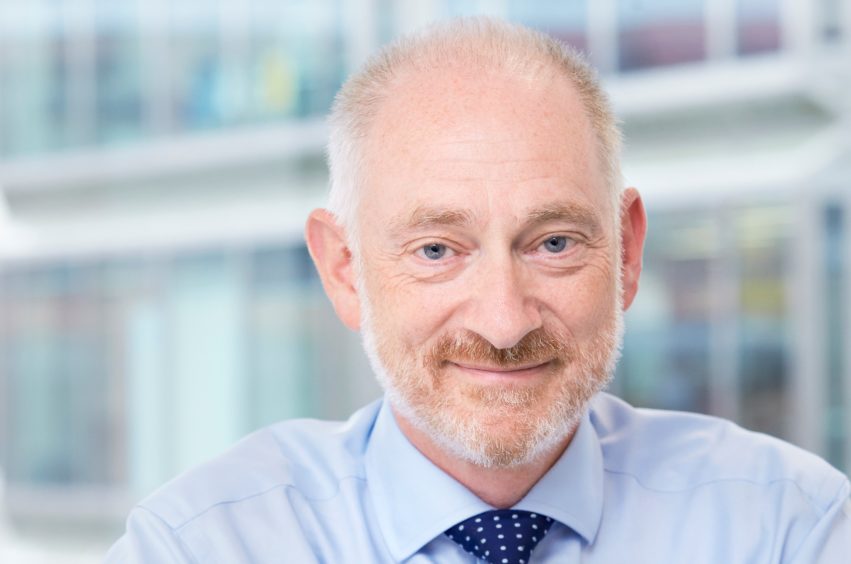 Benj Sykes does not claim to have all the answers for oil and gas companies on how to accomplish an effective energy transition, but he does have the best vantage point.
His firm Orsted, formerly Dong Energy, has traversed the murky and often choppy waters of the transition.
The company sold off its entire oil and gas business to Ineos in 2017 and threw all its efforts into becoming the biggest offshore wind firm in the world.
Taking in more than £4 billion in revenues in the first half of this year alone and with 11 operational wind farms in the UK, the Danish firm will look to complete its 175-turbine Hornsea One project, the biggest in the world, next year.
Orsted will follow up that feat by building bigger again, with Hornsea Two.
Mr Sykes' career has mirrored the recent changes in the UK energy sector.
He spent 21 years in oil and gas, first with Shell and then Hess, before joining Orsted in 2012, becoming UK vice-president in 2016.
Mr Sykes also serves as chairman of the UK Offshore Wind Industry Council (OWIC).
In terms of the energy transition, he has some words of advice for anyone in the oil and gas sector who might be looking to shift to renewables.
He warned that it can't be done piecemeal.
Companies have to be bold and brave if they want the spoils.
He said: "Incremental isn't going to do it.
"This is about a new world, a new paradigm shift for the energy sector, particularly in the North Sea.
"The UK currently has about nine gigawatts (GW) installed of offshore wind, but what the committee on climate change (CCC) has called for is 75 GW by 2050, so the opportunity is massive – we're taking about multi-billion pound projects here.
"They are maybe not quite on the scale of oil and gas, but they are meaningful in terms of scale.
"However, you have to be prepared to take a really significant step towards this new future.
"The big oil and gas majors are starting to look at this but we have yet to hear any of them say 'this is where our future lies'.
"It's a really difficult question for them. I don't underestimate the challenge.
"What we've done is said goodbye to the old and hello to the new."
Under the stewardship of chief executive Henrik Poulsen, Orsted has become the supermajor of the offshore wind sector and a virtual byword for huge projects.
It is now moving with fervour into the US market, with massive project awards off the coast of New York state, Massachusetts and Rhode Island.
Mr Sykes describes the success of Orsted as a "fantastic transition", which he credits in large part to the leadership of Mr Poulsen, who joined in 2012.
He said: "He took the bold decision and the leadership team along with him to say 'there's a whole new bold vision of energy coming and we want to be the leaders in the green transition'.
"It was that vision that really set us on the path to moving away from oil and gas and creating this company.
"Henrik's vision has placed us at the right place at the right time and at the front of the queue."
The move from oil and gas to offshore wind was a culture shock, Mr Sykes remembers.
The wind sector was "a little bit maverick" and more like a start-up in 2012 when compared to the mature North Sea oil and gas sector.
However, he could discern that the tide was shifting within the UK energy industry.
He said: "I very much had to make that transition myself, personally.
"The thing that really hit me between the eyes was going from a mature industry that was doing well to the extraordinary start-up style hothouse of offshore wind.
"At that time, offshore wind was by no means a guaranteed success as a technology.
"One of this things I learned when I transitioned is that there are a lot of skills you can bring from upstream oil and gas, but there is an awful lot you need to leave behind."
Asked whether the personal career transition to renewable energy was a financial or ethical decision, Mr Sykes claims it was a bit of both.
However, he added that being at the centre of innovation and change in the energy sector was a big motivator.
He said: "One of the first things I noted when I moved was the shared passion.
"We're all here to earn a good living, of course. But I think
there's a real strong undercurrent of being passionate about the mission – it's a unifying force in offshore wind.
"I used to work at the Carbon Trust and their strapline is 'making business sense of climate change'. I think that at Orsted we have really grasped that and shown our shareholders that we can do the best for them while doing the best for the planet."
As a number of firms from the UK utility sector have transitioned to renewable energy, such as SSE, Scottish Power and EDF, the dearth of firms moving in any meaningful way from oil and gas to offshore wind is noticeably stark.
Yet with so much more business yet to be done in the North Sea, Mr Sykes believes more will make the transition.
He reiterates, however, that if firms are not bold they will be left behind, most likely in Orsted's wake.
He said: "Equinor are going international and are pushing into offshore wind, though I think even they are only spending 10% of their capex in renewables, 90% is still in fossil
fuels so that is the start of a transition, perhaps.
"There's some healthy competition and we expect more to come into this space because of the scale of the opportunity.
"But we intend to remain the world leader. I can't see that that is going to be an easy task, but it's one that we're up for."