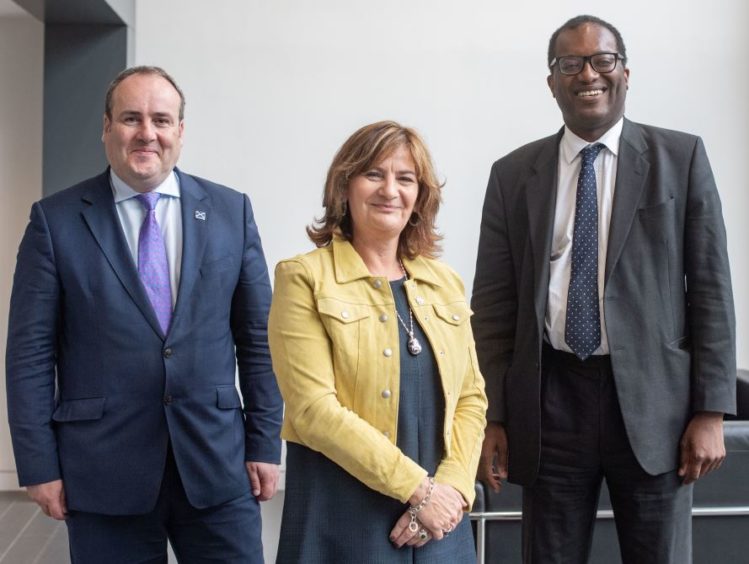 A £50million centre aimed at making the UK North Sea the world's first decarbonised oil and gas region is to be created in Aberdeen.
The Net Zero Solution Centre (NZSC) will be based at the Oil and Gas Technology Centre (OGTC) to develop new innovations to remove emissions from the industry.
OGTC chief executive Colette Cohen said there is "real demand" within the industry for the new centre, which could ultimately see the North Sea "become part of the solution" to the climate challenge.
It is expected to require £50m of industry and government funding over five years.
The announcement comes following legislation earlier this year by the UK and Scottish Governments setting net zero targets by 2050 and 2045 respectively.
NZSC will focus on a host of projects which will initially aim to reduce the UK sector's emissions by two-thirds. It is hoped further innovation – such as carbon capture and storage (CCS) – will cut net emissions to zero.
The new centre will look at repurposing oil and gas infrastructure for the production of cleaner fuels like hydrogen, powering oil platforms with renewable energy and data analysis to help reduce emissions and flaring.
It is also expected to play a key role in developing CCS technology – a process of storing CO2 emissions underground, or in this case, former oil and gas fields – which could provide a means for the North Sea to help other UK industries reduce their carbon footprint.
Ms Cohen said: "That allows you to become the first net zero hydrocarbon basin in the world and expand beyond that to provide net zero services to the UK industrial hubs. That's our vision, it would be awesome.
"Suddenly the industry wouldn't be part of a problem, we'd be part of a solution in a very genuine way in that we are connecting to the renewables industry and delivering electricity through that medium. We're taking problem emissions and removing them from the system. We're repurposing some of our facilities to get hydrogen generation."
Major energy firms including BP, Shell, Wood, Chrysaor, Aker Solutions, Ineos, Cnooc, Total, Siemens and Equinor have backed the plans.
The OGTC opened in 2017 with £180m of funding from the Aberdeen City Region Deal, however as the Net Zero Centre was not envisioned within that, the OGTC has asked for further support from the UK and Scottish Governments.
Following a visit to the OGTC yesterday, UK energy minister Kwasi Kwarteng said the government "warmly welcomes" the initiative, while his Scottish counterpart Paul Wheelhouse said it represents a "key element of a sustainable, secure and inclusive energy transition".
"Unusual opportunity"
Ms Cohen said the move shows oil and gas is "not just stuck in its old roots" as it looks to avoid the fate of the coal industry.
The centre will focus on creating an integrated offshore energy system which combines renewables with oil and gas, as it takes advantage of an "unusual opportunity" to make a "critical change", she added.
Ms Cohen also said that the idea of shutting off the sector is not realistic due to demand for the products it creates, so part of the work will include finding ways to get to net zero "living the way we do now".
She added: "If you think that the coal industry didn't transition, they just died. But we have an opportunity to transition and be part of a really critical change that the whole country has to go through.
"It is about raising awareness but also for everyone to see that it is an industry that is not just stuck in its old roots but it is trying to move, it is trying to change. It's trying, not only to maintain its own industrial base, but it is saying 'my industrial base is changing and I need to understand what that looks like'.
"It is a really unusual opportunity for an industry to have and I think it is good that the oil and gas industry is trying to embrace it."
Another key function of the new centre will be for it to play a key role in attracting new blood into the industry by highlighting its efforts to reduce carbon emissions.
Ms Cohen hopes it is a step in the right direction towards tackling how the industry is sometimes perceived from the outside.
She said: "This is exciting for the next generation because we're talking about data analytics, it is combining renewables with oil and gas, and it is preparing the North Sea for a low-carbon future.
"It is about how we can use the existing oil and gas infrastructure and capabilities and drive it towards the goals of a net zero country."
The Net Zero Solution Centre will be launched at Offshore Europe today at 12.45 at the OGTC stand (3B70) by CEO Colette Cohen, who will be joined in a panel of industry guests including Ariel Flores, BP; Phil Kirk, Chrysaor; Sian Lloyd-Rees, Aker Solutions and Geir Tuft, INEOS Oil & Gas.
Recommended for you

NZTC seeks partners for global technology push at COP28