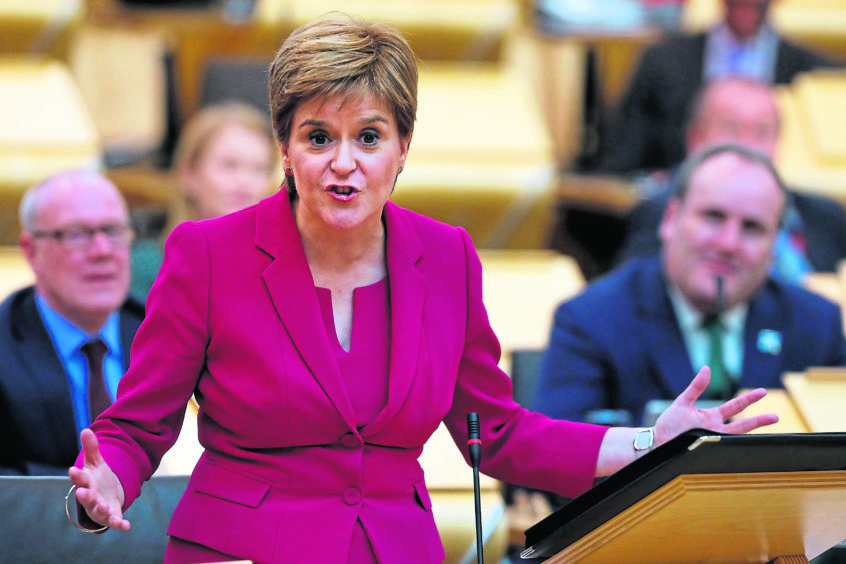 Nicola Sturgeon has vowed to create the world's first pollution-free airways above the Highlands and islands as part of a package of new measures to tackle climate change.
The first minister outlined the "bold" plan – which will involve pioneering electric plane technology in the north from 2021 – as she revealed a series of green initiatives at the heart of the SNP's Programme for Government this year.
And Ms Sturgeon issued a warning to the North Sea oil and gas sector, saying her government's ongoing support was now "conditional" on the industry helping to slash emissions.
The "Green New Deal" unveiled by Ms Sturgeon will also be backed by £500 million to upgrade bus infrastructure and a looming clampdown on drivers with a move towards zero-emission city centres by 2030. A bid to decarbonise the nation's rail services by 2035 will also be launched, while regulations could be developed to so that new homes must use renewable or low carbon heat from 2024.
Transport Secretary Michael Matheson previously said ministers were "actively considering" the use of electric aircraft on short flights between the islands and mainland.
Yesterday, Ms Sturgeon went further, announcing the government's aim to make the Highlands and islands the "world's first net zero aviation region" by 2040.
The SNP leader said it would involve flights and airports in the area becoming "fully decarbonised", and that trials of low or zero-emission flights would begin in 2021.
Lorna Jack, chairwoman of Highlands and Islands Airports Ltd (Hial), said: "We are delighted to be the key player in the Scottish Government's aim to make the Highlands and islands the world's first net zero aviation region.
"At Hial, we are fully committed to improving our airports' environmental and sustainability performance and our ambition is to become the first carbon-neutral airport group in Europe.
"Mitigating our environmental impact is already high on our agenda and having the opportunity to develop aviation
whilst at the same time enhancing the industry's environmental credentials is significant."
However, John Finnie, Scottish Greens MSP for the Highlands and islands, branded the targets "pie in the sky".
He added: "Obviously the prospect of the Highlands and islands becoming a zero- emission aviation region is welcome, but the technology to introduce such flights doesn't currently exist."
In her first speech of the new parliamentary term at Holyrood, Ms Sturgeon said she could "understand" why climate campaigners want a withdrawal from North Sea oil and gas production, but she argued this would only increase emissions through imports.
To try to placate advocates of ending offshore operations, however, she added: "The oil and gas industry does have a bigger role to play.
"So I can confirm that our support for oil and gas will now be conditional on the sector's actions to help ensure a sustainable energy transition."
That will include, she outlined, working with the Oil and Gas Technology Centre to develop clean energy schemes that can be integrated with existing infrastructure, such as carbon capture and storage.
The remarks were made as industry body Oil and Gas UK unveiled a blueprint to help the sector slash harmful emissions.
Tracy Black, CBI Scotland director, said: "The first minister's focus on tackling the climate emergency is welcome and business stands ready to play its role in tackling one of the great challenges of our age.
"Sustainable transition is a key long-term goal, but we must proceed in a way that makes full use of the expertise of our highly skilled oil and gas industry."
The programme yesterday detailed plans for 14 bills and other measures the Scottish Government intends to bring forward over the next year.
Other schemes included an additional £20m to tackle drug deaths, and the early introduction of a new £10-a-week child payment for low income families with young children by Christmas next year.
Free and open wifi is to be introduced at 10 sites along the North Coast 500 driving route, while Ms Sturgeon also confirmed that "tourist tax" powers would soon be handed to councils, and that the islands and Argyll and Bute were among the next in line for growth deals.
Unveiling the programme, Ms Sturgeon said: "It meets the challenges of the future while staying true to our enduring values."
Recommended for you

UK Government to relax gas quality rules to boost North Sea supply