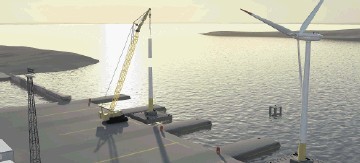 DEJA vu for Scotland as UK ETI launches floating turbines technology call
Britain's Energy Technologies Institute (ETI) has announced plans to invest up to £25million in an offshore wind floating system demonstrator which would open up new areas off the UK coast and help bring generation costs down.
The decision comes four years after the main board of Scotland's three Intermediary Technology Institutes sank a proposal tabled by the Intermediary Technology Institute for Energy based in Aberdeen. Both entities have since been consigned to Scotland's economic development history as they have been done away with.
ITIE started mapping out its likely programme in 2004 with a series of foresighting exercises. The idea of a floater was covered exclusively by Energy in late 2006.
ITIE's plan was to commit up to £15million of core funding in a number of sub-programmes. It envisaged leveraging an additional £10-£20million of public money though various sources. Ultimately it failed to win favour with the ITI main board.
The ETI's project will see the design, construction and installation of a floating system demonstrator by 2016 at a relatively near shore site.
It will be operated for at least two years to show it can generate high levels of electricity, be maintained without using specially designed vessels and to verify the predicted technical and economic performance.
The intention is that it would be operated for another eight years to allow further development work. The ETI will also commission a test site for the demonstrator with possible sites being provided to project participants during design.
The institute has not disclosed which locations may be favoured above others for such a project. It is estimated that the UK has over a third of the total European potential offshore wind resource – enough to power the country nearly three times over. Of this wind resource, Scotland commands the largest share.
Launching the ETI's latest technology call, its CEO, Dr David Clarke said: "Our national energy systems modelling and our engineering design projects have shown that offshore wind could play a major role in providing clean, secure and affordable energy for the UK and will be an important part of the energy mix by 2050.
"Offshore wind must be affordable and cost competitive with alternatives and although large, floating turbines will have high capital costs, they can access near-to-shore, high wind speed sites off the west coast of the UK which overall brings down the cost of electricity generation for the long term.
"Our studies have shown that access to high wind areas which are close to shore should be an attractive investment. We also expect there is likely to be a considerable global market for floating wind turbines which can be developed in the UK.
"We see floating turbine technology being strategically important to both the UK's energy supply and its industrial strategy which is why we are now seeking partners to carry out the development, installation and commissioning of a full scale floating wind turbine system demonstrator by 2016."
A Request for Proposals (RfP) was issued on October 25. Interested parties should get in touch with the ETI.
The deadline for the notification of intention to submit a proposal is January 6, 2012, and the closing date is January 27. In the interim, a project briefing event will be staged during next month.
Participants chosen must be capable of providing an offshore turbine in the 5MW to 7MW range that can be installed on the foundation.
The ETI has announced £133million of investments in projects covering marine energy, distributed energy, buildings, energy storage and distribution, carbon capture and storage, transport and bio energy, including £43million in offshore wind.
A project to develop high-performance blades over 90m long for the next generation of large offshore wind turbines is currently being commissioned and an announcement on who will carry out the work on behalf of the ETI will be made early next year.
France is also keen to corner a chunk of the potential wind floaters market. This is being led by the Energies Nouvelles unit of IFP, the French Institute of Petroleum. France has a huge coastline and therefore extensive aquatory. However, its continental shelf is very narrow and this severely limits options for using conventional monopole and jacket-mounted turbines, which is why floaters are now being investigated.